JCFree Family
Mon, 12/29/2008 - 8:34pm — John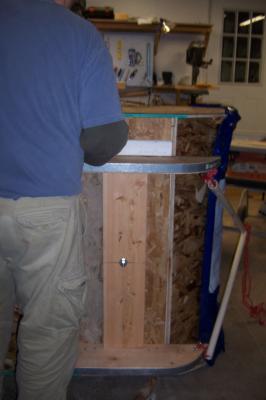 This is the tail end of the building process of the sleigh that took place on Christmas Day, in Grandpa's garage.
On Christmas Eve, the plan was hatched and ready to be put into motion the following morning. There was hardware to buy and large wood to secure. Measurements were discussed, reworked, and refigured. Runners were cut, metals was pounded, beat and forced into place. Seats were set in and braced for the worst, hand rails installed for the turns and the worst. Doubters were present mocking was plenty! But there tune changed from the ride a plenty! Deer were seen and chased of course; Lauren was fleet but not so nimble as their course. The young ones were cold but toughed it through a ride. Problems were present and then pacified. All went well and now at Grandpas, a sleigh awaits for the next hands to touch, to bestow a name and color but no fluff. Enjoy the images, there will be others I am sure, as the evolution of the "Sled" will continue into next year!
Thu, 10/18/2007 - 10:32pm — joefree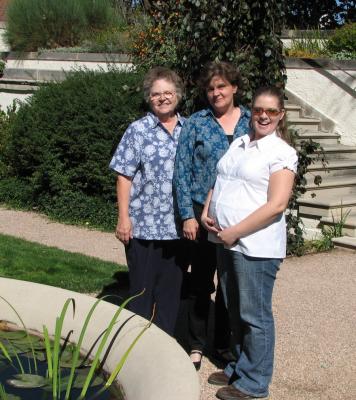 Here are some pictures Dad took. He promises to put some descriptions with them. They come from a visit to Jean and Evan and Reid and Rebecca in Colorado, Dave's family trip up to the cabin and Mom's sisters.
Mon, 09/24/2007 - 11:01am — joefree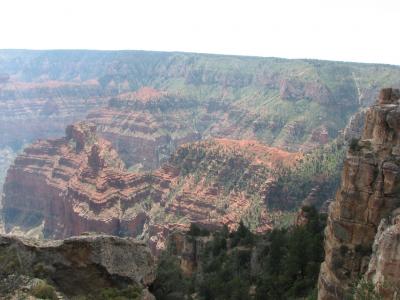 Here are some pictures from Grandpa over the last little while.
I don't have a description of the first several but starting with the Grand Canyon we have:
"The first 2 are on the North rim as we came down to see you.
The second 6 are of a trip to Kent's Lake and several of nearby Anderson Meadow lake with fish jumping all on Beaver Mountain and hour and a half from Paragonah.
The last six are of the Rexburg Temple, Moose creek where we camped for several days and went to Church at the chapel near Mac's Inn and Mesa Falls on Henry's fork of the snake river."
Wed, 08/22/2007 - 3:36am — Richard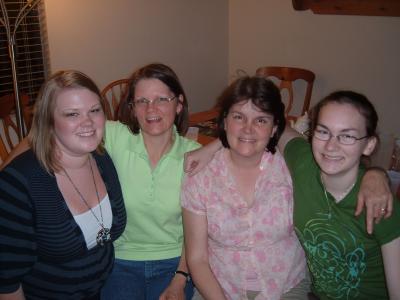 Our vacation this year was to visit Rebecca and Reid in Colorado Springs, CO. It was great to have all of our family in one place and to hang out watching movies, swimming in the hotel pool, eating, playing games. We were able to see the Cluff's new-to-them home and to do some painting around their home (Rebecca employed some Tom Sawyer moves for that).
Jean and Evan recently moved to Colorado Springs, too, and live in the same ZIP code as Rebecca. We visit them Monday night and let everyone get reacquainted. Friday we fajitas with their family, played Apples to Apples (Mary Ann beat us all), and watched High School Musical 2 at two different times. Even though Evan was working in Dallas, TX, for most of the week only to be asked to go to South Africa on Friday, he and Jean treated Marilee and Richard to wonderful lunch at the Broadmoor. We spent three hours eating lunch and talking about jobs, kids, and how to solve the world's problems.
We didn't take many pictures, but we share them here.
Thu, 05/10/2007 - 8:38am — joefree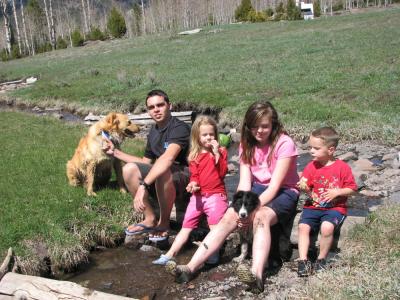 Here are some pictures of a picnic at Yankee Meadows. I can almost smell the smoke of the fire and hear the running stream, the wind through the trees and the playful romping of the dogs. I can almost see Brandon looking for the mud to jump into! There is even a snowman!
Sun, 05/06/2007 - 9:25pm — joefree
Mon, 07/24/2006 - 9:36am — joefree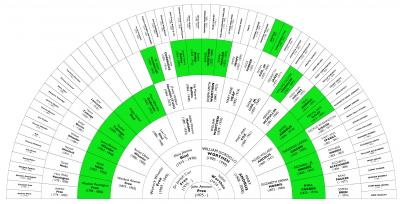 Happy Pioneer Day. I thought it would be great to gather the pioneering snippets of the family history stories we have. So here are some things to enjoy and read with your family today...maybe a family home evening option here.
I have included something from every line that we have. It is usually about their conversion and then their trek to the west. I couldn't bear to pull some parts out so there are some extra goodies in there for you. But it wasn't practical to include all of the stories.
I have most of the stories published to our two new family history sites: thefrees.com/history and worthens.com (I hope to get the others published soon).
I have also included a "fan chart" so you can see where these ancestors are. (you can click here to see the full image in another window)
I had the feeling yesterday that as I would see one of us I could see many ancestors standing behind each of us. They had given much to allow us to be where we are and they were watching with love and anticipation, exercising their faith in our behalf that we might carry on as they did.
I hope you enjoy reading about the great heritage you come from and that it will inspire us all to be better and more excellent in our "pioneering" that when we meet these wonderful faithful saints in our family there will be mutual admiration, respect, and love.
Hurrah for Israel!
(click "read more" to...uh...read the stories!)
Absalom Pennington Free

In Volume 9 of Heart Throbs, Absalom P. Free, age 50, his wife Betsey Strait Free, age 48, and their children are listed as being part of Brigham's First division of 1220 souls who left Winter Quarters, Nebraska, May 26, 1848 on their way across the plains. This company was well organized for safety and efficiency. It was divided into smaller companies. The Free family traveled in the 7th Company and Absalom was captain of a group of ten wagons.

There are several interesting stories that have been told in the family about experiences and/or events that took place while they were enroute to the Rocky Mountains. One of them: One day as the wagon was being laboriously drawn over the bumpy land, an extra sudden jar sent one of the little girls tumbling from the wagon seat where she was riding. Seemingly the wagon wheels had passed right over her little head. To the amazement of the horrified family, the child jumped up unhurt. The child's head had apparently fallen directly into a hole in the ground allowing the wheels to pass safely over without hurting the child.

Another story was of a runaway team. As the wagon train neared the Platte River, the animals who had not had a drink in a long, long time went crazy with the smell of water in the air and ran wildly and without control toward the water. Absalom, on horseback some distance away, sensed the danger to his son who was desperately trying to hold them back, and to his little daughter who was riding with him. He raced in front of the animals whipping them in the faces with his hat to startle and stop them. And not a minut too soon - for in a short minute they would have been in the river and all would have been lost. Absalom was given the steam and power to perform this feat by the Lord and he thanked God all the days of his life.

The majority of the Brigham Young Company arrived in the Valley of the Great Salt Lake September 21, 1848. Each family received land when they arrived here on which they were expected to provide a home and a living for themselves. The Free family was located in and on the east side of what is now Liberty Park. They worked hard to clear the land, build a home and improve the property for farming. Some years later, in planning for the welfare of the Saints in this fast growing town, Brigham Young decided the best location for a large park would include the Free farm. This property was traded for several lots nearer the center of Salt Lake to the satisfaction of all.

Absalom was a farmer and stockraiser throughout his lifetime. He was active in the church and served as a Patriarch for many years. He loved his family and was proud of them. He was the father of twenty-one children.

March 5, 1857, Absalom was sealed to his third wife, Annie Hicks in the Endowment House. Annie, born January 8, 1837, in Barking, Essex, England, was a convert to the church of only two years, and had arrived in the Salt Lake Valley with the belated Edward Martin handcart company the last day of November 1856. She was only 20 years of age when she married Absalom who was 59 years of age.

To this marriage was born seven children: Elanor, Louisa, Absalom, Frances, Joseph, Irene and WENLOCK.





Annie Hicks

On the 25th of May, 1856, I sailed for America on the ship Horizon, beginning our journey to Zion. I crossed the plains with the belated Handcart Company of Edward Martin. We underwent numerous hardships and lost many of our good and faithful band on the road. I reached the valley on the last day of November 1856, with not a friend to meet me--but I am still here with the saints and many friends in the valley of the mountians. (Annie Hicks was taken to the home of Brother Ellerbeck where she did housework for which she was paid 75 cents per week. She also did their knitting, sewing and embroidery work. This insert was taken from, Our Pioneer Heritage, page 184.)

I was married to Absolem Pennington Free, a Patriarch of the Church on March 5, 1857, and am the mother of seven children, all of whom are living. I am also proud of my thirty-four grandchildren and the thirty great grandchildren.

(Annie was a gifted writer, she was the author of many beautiful poems. For many years she was secretary of the Farmers Ward Relief Society and her records were kept beautifully. A sacred hour was held in her home every Sunday to which all of her grandchildren were made welcome. Always she was dressed in her best gown with a white apron. Then she would play on the organ and we would sing, after which she would read the Scriptures. These were wonderful experiences to me as a child and it was then I learned to love and to read the Bible. This insert taken from, Our Pioneer Heritage, page 184)

I have been asked to relate an incident or two that might be of interest to you. One which I recall very clearly, occured as we crossed the Platte River. The stream was very strong and the water bitter cold, making it very hard to cross. In the company was a widow with her family. Her oldest boy, a fine young chap, had started across the river with his handcart but the current was so strong that he was borne down stream. Seeing the boy's condition I ran down the bank of the river and went out into it in time to catch the boy and his handcart. I helped the boy to shore but he was almost frozen. In the evening when the company made camp, the boy's mother was going out to gather chips of wood but the boy insisted upon going himself. When he had been gone a long time, a search was made for him and he was found frozen to death with his sticks in his arms.





James Bivence Wheeler and Rachel Talmage

When he was about seventeen years old he heard some Mormon elders preaching and became very much interested. They held their meetings mostly in the homes of friends. Mother took it up too. So did several of his friends, which made their folks very unhappy, because they began planning to go to America.

Mother's father (Henry Talmage) was a very religious man. Every Sunday morning he started out for Sunday School around six o'clock. Guess he had quite a ways to walk. He put in the whole day going to meetings. Then in the evening he would go and preach for the Salvation Army.

Father's mother (Esther Bivins) belonged to the Church of England. Mother's father belonged to some other religion. I don't suppose they would have been so upset over my parents joining the Mormons if they had stayed in England. Buy they didn't want them to come to America.

Mr. Dibley died while mother was still with them. Miss Dibley had some sisters and one was Lady Achers. And there were children so she wouldn't be all alone. Miss Dibley and mother used to go to Yarmouth to the seaside every summer. Once while there the Prince of Wales was there, and he was having a big time. Mother passed him on the sidewalk one day and winked at him. He stopped and told her her eyes would be the ruination of her someday.

Miss Dibley offered mother and father every kind of inducement for them to stay there in England: offered to give mother part of her estate, and they could live in the home with her, having their own quarters. But they just had to come to America. They saved until they had enough to pay their way. Father converted three of his chums, so they decided to come with them. They came on the "Nevada" in 1883.

CHURCH CHRONOLOGY by Andrew Jensen, page 113. August 1883

Wed. 29 - The steamship Nevada sailed from Liverpool, England,

with 682 Saints, including 29 returning missionaries, in charge of

Peter F. Goss. The company arrived at New York Sept. 7th, and at

Salt Lake City Sept. 17th.

The missionaries had assured the boys that they would have no trouble finding work in their trades. Mother was seasick all the way across, and they encountered a bad storm and were thrown off their course for three days. The boys didn't get sea sick. But when they landed and got on the train they were all sick and were glad when the journey was over. Of course, they were very much disappointed when they got to Salt Lake City. Dad was the youngest of the four, but he was also the leader. They all depended on him. And they had to go to work at anything they could get. Two of the boys were carpenters and the other a carriage maker. Dad being a mechanic had the hardest time and just got odd jobs. Then he got a chance to go to the iron mine and work, but they had just paid them in script, and they had to go to the tithing office and get what they could.

Mother went to work for a family as a hired girl and never worked so hard before in her life. She had brought lots of clothes with her and the women were always borrowing some of them. And they didn't pay her. When the boss of the iron mine was making a trip to Salt Lake Dad decided to go with him as he hadn't heard anything from mother and was anxious about her. And he made up his mind that they would get married. He thought she would have saved some money which, of course, she hadn't. Anyway they decided they wouldn't be apart any more as mother was being pressured to go into polygamy. They were married on the 7th of April in 1885. They went to Beaver where they all got work at the Woolen Mills. All but Charlie Mossdale, he stayed in Iron County where he married and raised a large family.

Father (James Bivence Wheeler) seldom talked of his family. The only two he mentioned often were his brother Tom and his sister Ellen who was a nurse. Tom wrote in late years and wanted to come and live with his brother and family, but mother didn't feel that they could afford it. And also she felt that since he was in his later years, and she had not been too happy in her first years in the new land that Tom would not be happy here. It was true that the family didn't have very much. They lived at Highland still - otherwise known as Wheeler's Ranch.





Anders Gustaf Blad and Mina Albertina Andersen

Anders Gustaf Blad was born in Skattegarden, Hangelosa, Sweden, July 21, 1844, the son of Sven Anderson Blad and Eva Marie Palmgren.

He was the oldest of a family of five children and spent his young manhood following the fishing industry in Southern Sweden and as a sailor on the fishing boats. He came to America about 1868.

Little is known of his life between the time of his arrival here and his marriage. He married Mina Albertina Andersen, of Eidsvoll Akershus, Norway, November 26, 1879, in Salt Lake City, Utah.

He worked for a freight line, hauling freight between Salt Lake City and Pioche, Nevada. After about two years, in February1881, he moved his wife to Nevada from Salt Lake City.

He will forever be remembered by his grandchildren as a kindly man who always had time to dance them on his knee to the tune of an old Swedish folk song.

It wasn't until his son, Levi, was baptized, at nine years of age, that he too became a member of The Church of Jesus Christ of Latter-day Saints, June 12, 1895. Two years later, Sept 14,1897, they traveled by team and wagon to the St. George Temple to be sealed as a family.

At the age of 81 he suffered a stroke and passed away March 5, 1925, and is buried at Panaca, Nevada.





Oscar Hamblin

Oscar was born in Bainbridge, Geagua County, Ohio, April 4, 1833. The country then was just a wilderness. He was the 9th child of 12 children born to Isaiah Hamblin and Daphne Haynes. His father and older brothers worked hard in clearing the land which is said by Jacob, Oscar's older brother, to have taken 20 faithful days to work to clear an acre and render it fit for the harrow and a crop of wheat. When Oscar was 5 years old his family moved to Franklin, Woolworth county, Wisconsin.

In 1841, the family moved to Spring Prarie, Wisconsin in the same county. Oscar was then 8 years old and his brother Jacob was now 21, and had been married for two years. Jacob and his father Isaiah had made claim to 80 acres of land each, in this now, wilderness area and were busy developing it.

The turning point in the lives of the entire family occurred March 3, 1842, when Jacob was baptised into the Church of Jesus Christ of Latter-day Saints. Jacob did this against the wishes of his entire family, friends and loved one. From the time Jacob joined the church the entire large family was unsettled.

In August 1844, Jacob moved with his family from Spring Prarie to Nauvoo, Illinois while Isaiah moved to Ellison, Illinois. Oscar was now 11 years old. The parents visited Jacob for April Conference in 1845 in Nauvoo and stayed long enough to be baptised in the Mississippi River on April 11, 1845. Isaiah said to Jacob at this time. "It is your privilege to baptize your parents, for you have prayed for them in secret and in public, you never gave them up; you will be a Joseph to your father's house." (See Jacob Hamblin, by Corrbett, page 24)

In 1846 Jacob moved 200 miles to the west of Nauvoo to Bloomfield, Iowa. Isaiah in 1846 moved to Pottawattamie Co, Iowa in the western part of the state, where he lived 2 years. In 1847 Jacob and his family joined him there and together, Feb 5, 1849, Jacob, whose wife had left him with their 4 children, and with Isaiah and Daphne, left for the west.

May 1849, at Mt. Pisgah, Oscar's mother died after a long period of failing health and the family stopped for 2 days to take care of the burial and gather themselves together again. They arrived at Council Bluffs in September 1849. Oscar was now 17. During these years there is only slight mention of Oscar and his brothers and sisters. In the Jacob Hamblin book, Isaiah, Jacob, and his children and Oscar's brothers Marion and Fred arrived in Salt Lake City, with the Aaron Johnson Company and went directly to Tooele to live.





James and Elizabeth Walmsley Corbridge and Mary Ann Corbridge

On June 12, 1837 Willard Richards, Heber C. Kimball, Orson Hyde, and Joseph Fielding were set apart to serve missions in England. They disembarked in Liverpool and began preaching the gospel in surrounding areas. Located about 30 miles from Liverpool, not far from Preston, England where the gospel was first preached, lay the village of Thornley. James and Elizabeth Walmsley Corbridge were residents of Thornley and soon heard and accepted the gospel. Elizabeth was baptized by Heber C. Kimball. (The exact date is unknown, but we do have record that an Elizabeth W. was baptized on January 22, 1837.)

In 1840 the Corbridges left their home in England to emigrate to Nauvoo, Illinois. At the time of their sailing they had three small children. Born in 1836 was Mary Ann (my grandmother, later the wife of Oscar Hamblin), William, born in 1838, and the baby John, born in 1840, who died while crossing the ocean and was buried at sea. James was a young man of thirty and Elizabeth a woman of twenty-four years. It is easy to imagine the transformation of thought and feeling that must have entered their home as they accepted the "good news" that the gospel had been restored.

The Church at this time as explained in the "Essentials of Church History" was having much difficulty, i.e. financial problems ~ dissension among the members, apostasy, persecution, and other struggles. It was at this time in 1837 that Joseph Smith was told by the Lord to send missionaries to Great Britain. "The inspiration to send missionaries for the salvation of the church was fully attested for members were baptized by the thousands within a few months." (pp. 197-204) Many of them emigrated and among these the Corbridges.

While the gospel was their "good news," it was in the lives of the Corbridges an heroic effort, a test of endurance, a test of faith, a new life, a new world, never a look back, a conviction into which they could jointly throw all their dreams, efforts, and aspirations for a triumphant cause. They must have made the decision to move with determination and courage.

Their lives were interwoven with all the greats of the early days of the church. They were there, a part of it all. In May 1838 Joseph Smith took up residence in Commerce, Illinois (name later changed to Nauvoo.) The area was a near wilderness, but within one year there were 3,000 inhabitants and 6 years later there were 20,000 inhabitants. The city was incorporated in December 1840. Such were the circumstances when the Corbridges arrived to make their home in America.

We know that in 1842 another son, James, was born and that he died that same year. We also know that in 1843 at age 33, James the father and husband died of cholera.

The widow, Elizabeth was very poor and soon after the death of her husband she married a man by the name of Rogers, (first name unknown.) It is not known if he was a member of the church. Of that marriage was born to her a daughter, Elizabeth Vilate Rogers, who lived only a few months. Elizabeth always told the story that the prophet Joseph advised her to leave Mr. Rogers. For a period of time the prophet hired her to work in his large home, doing the washing and cleaning, thus enabling her to provide for her two children, William and Mary Ann. We must remember that it was June 27, 1844 when the prophet was martyred. For her, the struggles for existence must have waged from one day to the next and in the ensuing months she became a part of the turmoil which took place within the church and among the people. She must have wept along with Emma and her family and felt the uncertainty of the times.

In February 1846, the first members began the exodus from Nauvoo. That same year prior to leaving her home she married John Walker, (52 years old) a widower and father of ten children, four of whom were married. (Read of John Walker and his own tremendous story and that of his children who took care of each other following the death of their mother.) John was twenty-two years older than Elizabeth. Not much is said about the home life of these two, but we know that they were together in Winter Quarters until 1850 when he left by wagon for Salt Lake City, Utah. While in Winter Quarters, a son, Joseph Edwards Walker, was born February 1, 1847 and died two months later of a cold. In 1848 another son, Solomon was born. Following the birth of Solomon the Walkers moved to Oliver's Camp in Pottowatomi, Iowa. After the departure of her husband John to the Salt Lake Valley, another son Hyrum Alonzo Walker was born in March 1851. (He would become my great-grandfather on my mother's side.) While she was giving birth to this new son, John Walker, now in Salt Lake City, was taking himself a third wife, twenty year old Carolina Luce. He simultaneously married his fourth wife, 40 year old Abigail Sanford.

During this time Elizabeth was making her own preparations to go West. The story is told that her husband had promised to send for her and the children. When she received notice of his other marriages it seems she determined to go it alone. In about 1852, Elizabeth and her three sons, (Mary Ann having preceded her to the valley the year before,) William Corbridge age 14, and Solomon age 4, and Hyrum Alonzo age 2 drove by ox team across the plains with the Fullmer Company. It is said that when they arrived at the Pioneer Park meeting place in Salt Lake City, John Walker was there waiting to meet them. As the story goes, John greeted Elizabeth with, "Hi there Elizabeth, I'm ready for you!" and she retorted, "You can go to H... I've made it this far alone, I'll go it the rest!" Thus ended the John Walker-Elizabeth Walmsley Corbridge relationship.

Going directly to Tooele, Utah she reunited with her daughter Mary Ann and set up a new home.

In 1853, Elizabeth married another widower with a family, George Marshall; and by 1857 she had two more sons: George and Ephraim Marshall. In December of 1854 her husband took another wife so Elizabeth experienced the life of a polygamist wife for the next two or three years.

While dates are not certain Elizabeth seems to have made the exodus from Tooele to Santa Clara in Southern Utah with her daugher Mary Ann.* Mary Ann had married Oscar Hamblin (brother of Jacob Hamblin) in 1854, and the Hamblins were called to serve a mission to the Indians at Santa Clara in the autumn* of 1854.





James Henry Rollins and Evaline Walker

They were giving endowments in the Temple at Nauvoo, and on the last day of the Temple work, myself and wife went through with a great throng of people and received our Endowments and was sealed for time and an eternity. This was on the 3rd day of February, 1846. I was told the next day to take my wagon and team across the river with some of the Twelve's family, which I did and crossed the river on the ice to the Iowa side, and at the same time all the Twelve crossed the river to Montrose. My wagon and team and contents went out to Sidney Tanner's a few miles distant west and remained there three or four days until Brother Tanner and family were also ready to go with us to Sugar Creek, where the Twelve were gathered with many others. We remained here for a few days during which time a violent wind and snow storm came upon us in the night. The guard could keep no fire, and it was intensely cold for the women and children, and also for the men on guard, and teams tied to wagons and trees. A few days after this we started on our western journey, and crossing the Des Moines River, which we accomplished in two days. After starting, much flour was brought in Farmington before crossing the river and we pursued our journey until we came to Richardson's Point. Then it commenced raining and continued for many days and-nights. We then got dry bark and layed from the wagons to the fire which made a path for the women to walk on in order to cook their food. About this time Brigham Young sent word to me, I must return to Nauvoo with my team and bring my own family, which I had left all this time in Nauvoo, and for me to come on as soon as possible. Alexander McCray accompanied me back. We passed through Farmington and after crossing the Des Moines River, we camped in the wood outside of the town. Then at night I went to see my sister, Caroline, who lived in this place. This was the last time I ever seen her. I returned to my wagon and myself and Mr. McCray went to bed. In the morning early I went to feed my horses in my feed box. As I approached my animals, one of them was frightened and pulled so hard on the rope until he broke his neck, but having an extra animal, I crossed the Mississippi that day and went to work to trade my horses for oxen. I succeeded, after much trouble in obtaining three yokes of young oxen. I then took my family and effects and found Horace Alexander and family with no team to draw their wagon. I furnished my best yoke of oxen to draw their wagon and family. We pursued our journey toward Council Bluffs with Hector Haight, their father and others.

A few days after arriving at Council Bluff it was noised about that we must give up 500 of our men to go to Mexico. Brigham Young and the council of the Twelve decided that they would raise the number if possible. Col. Kane and Capt. Allen were the persons making this requirement for the government. Col. Kane was a bright young man, made speeches to the people gathered there, and volunteers were called for by Brigham Young and others of the Twelve until the number amounted to the number required. Kane and Allen said the Government would give us the liberty to cross the Missouri River and build for ourselves in the Indian Territory a place for the winter quarters for our people. We crossed the river, swimming our cattle across which was a very perilous job, but we finally succeeded without the loss of a single animal. We went across to the cold springs on the other side, a mile or so from the crossing of the river. We remained there on a ridge until a suitable place was found. We camped on this ridge in a string facing the south. A council was soon held at this place, when it was determined for All the men that were able to go to cutting hay and stacking it up for winter use, which we accomplished in due time. After this time it was decided to All move to Winter Quarters; that was the place picked out by the President, Brigham Young and Council, and we moved immediately and commenced to build houses and dugouts in the side hill. I went with the company up the river some few miles and cut and rafted cottonwood logs down to Winter Quarters. I came very near getting my leg taken off by the raft in landing it. I sprang from the raft-with the rope to fasten and stop it. As I jumped for the shore the bank gave way from under my feet, just as the raft struck the bank, but saved myself and succeeded in stopping it, by a turn around a tree which was from the other bank. It was a very large raft of timber which made several houses, with one for myself. I also cut logs and built a house for the wife and family of my brother-in-law, Horace Alexander, who had gone as one of the 500 that was call ed to Mexico in the Battalion, and they were left in my charge during the winter of 1846 and 1847. This wife gave birth to a child, after which she had what the Dr. called the black leg. She died, and was buried on the Hill. In a week or so her infant died and we carried it and opened the mother's grave and placed its little coffin on its mother's. There were three little girls left by my sister-in-law, which were cured for by her sisters.

We, soon after this, according to orders, began cutting timbers to build a stockade for our fort before the Pioneers should start in the spring for the West. This was to protect the camp from the Omaha Indians, and other tribes that were west of us. The Omahas and Sioux were at war with each other at this time. A great many Indians that were wounded would pass by us in a battle with Sioux up the river.

In the spring after the Pioneers left, we plowed and planted corn, squash, melons, & etc. This was the year of 1847. (Our farms raised a large crop of each.) In the fall late, teams and wagons were sent back for the purpose of furnishing those that had none, that they might pursue their journey West. It was decided that these oxen should be taken up the river and herded in the rush bottoms, some 25 miles up the river. John S. Gleason and myself took them, and our families, and herded the cattle in the rush beds. If we would do this we would have teams to draw our wagons in the spring westward, which He did. There were other cattle, those that were sent back from the West were driven up there also. When the company started from Winter Quarters to cross the plains, Brigham Young being the leader of the companies, he started ahead with his company and then Amasa Lyman's Company, with a hundred wagons, I being in Amasa's Company; then Dr. Richard's Company, which was mostly made up of English emigrants with Joseph Horne as captain of a hundred. The second day out, we camped on the little Horn River, where we stayed two or three days. Then we pursued our journey to Loop Fork on the Platte River. When we crossed down the other side, which was very difficult to cross, Dr. Richards and Company arrived on the other side as we had left when it was determined to help with our lead oxen to cross them over on the same side we were, which was accomplished that day. No accident happened. We remained there the next day or two, then starting the next morning early for the main Platte River 20 miles distant, and when we arrived there, both Amasa Lyman and Dr. Richards were taken very sick. We remained there 2 days, and went out and killed an antelope on the Sunday while we rayed over. Our next move was up the Platte River towards Fort Laramie. We supplied ourselves with meat, killing buffalo myself that day, and another that Bro. Flake had down. And we were obliged to shoot two bulls in order to get the cow that he had killed. As we were skinning the cow, another cow had made its appearance coming down a ravine near us. I took aim and shot it; it turned and went up the bluff. About this time Brother Horne came to us and said their Company had not kin ed anything. We told him to take the loins and hump, and as much more as he wanted out of the two bails, and go upon the bluff and he would find a cow that he might have for his company, which he did and found it to be very fat.

The next day we pressed on our journey toward Laramie. We came to an Indian village where a great many tents were made of tanned buffalo hides. They impeded our progress and stopped our train by squatting in the road. They demanded pay for the water and grass of our Captain, and the chief answered, 'We want you to give us flour, sugar, coffee, powder and lead.' The captains of each ten were set to work to get from the wagons these articles, the chief spreading his large buffalo robe on the ground on which the contributions were emptied. We asked him if he was satisfied. He said, 'Yes, if you will give me a little more powder.' He was told we did not have any more to spare. The Indians then removed the contents of the buffalo skins and said we could pass on our journey. We were not troubled any more until we reached Fort Laramie, where we stopped our train. There were many Indians there with the French who kept the Fort. The Frenchmen told us not to sell the Indians any whisky, which, of course, we did not do, but to sell it to them if we had any and they would pay us a big price; and those that had it to set , sold it to the French for a $1.00 a pint cup full. Banters were out by the Indians for a horse race, and Nathan Tanner ran his horse with the Indians and beat him; then they wanted to give him a bigger horse, which Brother Tanner needed, and the trade was made. About this time, while our people were trading for buffalo skins, the Indian chief was discovered to be drunk, and seemed to be very mad as he walked through with tommyhawk in hand. He cut many gashes through the buffalo skins which hung on the banisters. He was watched by his squaw, and two or three Frenchmen, and was taken and bound and was laid away. We then pursued our journey, after obtaining many buffalo skins, until we came to the three crossings of Sweetwater, where we camped for two or three days, for the women to wash. We killed quite a number of mountain sheep and one buffalo. We pressed on our journey up Sweetwater, and while traveling up the stream, I kin ed 20 antelope and eleven of their hides I took into Salt Lake and tanned them. When we came to Pacific Springs, we camped here for one day. The next day we started for Green River, which we crossed safely by raising our wagon boxes and crossed without accident. Then we wended our way over the mountains, and arrived in Salt Lake about the first of October, being five months on the road, from the time we left Winter Quarters until we arrived in Salt Lake. All this I have written from memory. The records of our travels on the way which I had kept, I delivered to our Captain was lost and could not be found, and at this writing I am 80 years old and six months of age. Many incidents of our travels I have not here related such as losing many of our cattle. One evening when we were cooking our supper over the camp fire, baking bread in the bake ovens, a number of Indians surrounded our camp fire and asked for bread, and as soon as it was baked, the Indians would grab it from the bake ovens and were quite fierce. And while they were all around an old Indian stole our eldest son by catching hold of him and putting him under his blanket, and then soon mounting his horse rode away with John Henry. We soon missed him and several of the men and myself mounted our horses and away we went; overtook the old Indian and my son about 7 years old at that time. We told the Indian we wanted the boy, and the little boy was almost smothered to death by being held so tight, so not to cry, the Indian said, 'I was just fooling'. My wife was so frightened and also all the camp, but we felt to thank our Heavenly Father for his recovery, and him unharmed. And on this trip our eldest daughter, Mary, only five years old, fell and the wheel of the wagon ran over her leg and caused a dreadful scar which she carried to her grave, and the death of Sidney Tanner's little boy, who fell from the wagon tongue, and was instantly killed by the wagon running over his neck. He was buried by the road the same day, then the company journeyed on toward Salt Lake.

After we arrived there, I moved my wagon into the old Fort; also that of Horace Alexander's children. Their mother died at Winter Quarters, after their father had been cat leaf into the Mormon Battalion. The mother died in child-birth, and the father not knowing of her death, and when hearing of the company coming, he went out to meet his wife and family, and did not know of her death until he reached the wagon where his children were being taken care of by their grandmother, Nancy Walker, and there he was told by Grandma the sad story of his wife's death. Mother and baby buried in the same grave. No one can tell of the heart-rending scene of the father and children.





Samuel Worthen

Samuel Worthen, the son of Richard Worthen and Mary Cowap, was born Dec. 21, 1825, at Northwich Chesire, England. When a boy about ten years of age, he went as an apprentice to learn the trade of a mason; and through this training he became a master mechanic of the trade. He, in connection with his mother, brother and sister, immigrated from England to the United States when he was a young man. They joined the church in England in 1840.

In the year of 1843, when eighteen years old, he married Sarah Hallam, in the east, likely in Illinois, as their first two children were born at Nauvoo. A year before leaving the state, two of his brothers, Richard !! and Joseph, were drowned in the DesMoines River in Iowa, his only sister died in New Orleans.

In the year of 1850, his family together with his mother and brother John, came to Utah and settled in Salt Lake City. On April 27, 1856, he married Maria Louisa Grow of that city. While residing there, he became a clerk in the store owned by Gilbert and Barish. He was a member of the brass band and acted as a bugler during the Echo Canyon campaign.

About 1862, he was called to help settle the Dixie country, so he sold his farm at Centerville, that being where Aunt Maria was living, and settled on a ranch about halfway between Harmony and Kanara which was known as the "Worthen Springs."





Sarah Hallam

Sarah Hallam Worthen was the daughter of William and Esther Holland Hallam. She was born September 14, 1825, in Stockport, Cheshire, England. She, with her parents, joined the Church of Jesus Christ of Latter-day Saints in England in 1841, and emigrated to America, February 5, 1842.

She heard the Prophet Joseph Smith preach his last sermon, saw him as he left for Carthage jail, and saw him when he was brought back after being martyred. She was married to Samuel Worthen in Nauvoo, Illinois, in 1844. She and Samuel received their endowments in the Nauvoo temple on February 6, 1846, one of the last days the Nauvoo temple was able to be used before the saints were driven out of Nauvoo.

Her oldest son, Joseph Smith, was born in Nauvoo, October 2, 1845, and her father, William Hallam, died in Nauvoo from cold and exposure while on guard at the time of the troubles of the Prophet Joseph.

They arrived in St. Louis, Missouri, in 1847. There Sarah's mother, Esther Holland, died. Two children, William H. and Sarah Jane were born in St. Louis, on December 24, 1847 and November 14, 1849 respectively. Their journey was then continued across the plains.

After many trials and hardships they arrived in Salt Lake City, Utah in 1850 and built a home. They also owned a farm in Centerville and were comfortable financially. While her husband worked in the Gilbert and Parish stores, Sarah was laundress for the store, and she also sewed sacks for the store as well.

Six more children were born in Salt Lake City:

Samuel H, December 24, 1851

Mary Ann, November 11, 1853

Charles R. November 30, 1855

Esther Louise, January 14, 1858

George W. January 10, 1860

Hyrum S. October 11, 1862.

Her surroundings were pleasurable, and she had many friends. After journeying so long she felt she was permanently settled, but in 1862, they were called as pioneers to the Dixie Mission. After disposing of their property and home at a sacrifice, they came to Dixie, arriving in St. George in 1862. A home was again made. Three children were born in St. George:

Alice, December 11, 1864

Heber, October 16, 1866

Harriet, November 17, 1869

Sarah was counselor in the Relief Society for many years, and was public spirited. At the opening of the St. George Temple in 1877, she was called as a worker which she remained until her death on August 19, 1897.

Her aim in life was to rear her family true Latter-day Saints doing all she could to relieve the suffering of others. She always felt that example was better than precept and led a life worthy of imitation.





Jehu Cox and Sarah Pyle

The Cox family was the very last of the first groups to leave Nauvoo. They crossed the Mississippi River May 20, 1846. Jehu took his family directly to Mount Pisgah. Here, under the direction of Parley P. Pratt, a settlement had been made. Jehu remained here long enough to plant a field of corn and then moved on to Council Bluffs. On arrival there he found the Mormon Battalion in process of organization. Henderson Cox, a healthy youth of seventeen years, joined Company A and marched off with the Battalion, never to be seen alive by his parents again.

Little did the parents of Henderson realize what had befallen their son on that fatal day. They had been traveling forty-nine days since leaving Council Bluffs so were probably at the half-way mark when he met his fate. They could not possibly have learned of the tragedy until their arrival in Salt Lake. (see Jehu Cox History for more details)

Meanwhile in Council Bluffs, after the exodus of the Battalion, Jehu and family spent the next ten months in Winter Quarters as best they could. In the early spring of 1847 Jehu moved his family across the Missouri River and up some seven miles to the Campbell farm and there he planted a crop. While working on that farm, Joshua was born, but died the same day. The family remained on that farm until April 28, 1848, then moved back to Winter Quarters to make final preparations for the trek to the Rockies. The Cox family was assigned to travel in Heber C. Kimball's company. The great journey began May 18, 1848. After the company had been traveling for ten days President Kimball appointed Jehu as captain of one of the units. Some days later, June 15, a tragedy overtook the family. Little six-year old Lucretia was run over by a wagon and killed. The company was stopped and a very simple funeral was held. Much sympathy was expressed to the family by friends and speakers at the service. The journey was continued westward without incident, the company arriving in the valley September 24, 1848.

September was a critical time to arrive in a new country. Their food supply was running low. Winter was coming on without even a home to live in. Nine small poorly clothes children were entirely dependent upon these sturdy parents their existence. The pioneers who preceded them to the valley had suffered severe losses due to the grasshoppers so the food supply looked none too bright for the advancing winter. In spite of these adverse conditions, Jehu and family managed to live through that first winter.





Willard Glover McMullin

Willard was an educated man for his day. His special training was for him to become a sea captain. However, Wilford Woodruff was sent to Maine on a mission and Willard was converted and baptized into the LDS Church by him. He had married a Miss Mary Richard, daughter of Ruth and Josiah Richards, of Searsmont, Maine. To them were born two children who died from an epidemic. He, his wife Mary, and her sister Martha, were members of a party of Saints led by Wilford Woodruff to Nauvoo. On January 9, 1846, Willard Glover went to the Nauvoo Temple and received his endowments with 105 other Saints.

When the Saints were driven from Nauvoo, Willard, his wife, and sister journeyed westward as far as Winter Quarters, where they remained to help in the outfitting of many of the Saints for the westward trek. They also engaged in planting crops to grow and be harvested by others who would come later. Mary died during these trying times, and upon the advise of Brigham Young, Willard married his sister-in-law, Martha, on January 6, 1848. They left Winter Quarters early in 1848, and must have arrived in the spring, as a son, Willard Glover, was born in Salt Lake City, June 2, 1848. The child died April 27, 19499.





Abigail Jane Daley

She came in '48, and how brave and courageous she was. With abiding faith in her Heavenly Father and her love for the Gospel of Jesus Christ, she was able to bring her family from Winter Quarters to Salt Lake City, Utah.

I write of my grandmother, Abigail Jane Daley Andrus, who left Winter Quarters, the spring of 1848, with five children, endured the hardships of that long trek across the plains, arriving September 24, 1848 in the Heber C. Kimball Company.

Her husband, Milo Andrus, was sent from Winter Quarters to England, on a mission, in the spring of 1848. Shortly before he left Winter Quarters, according to his diary, he was sealed to Sara Ann Miles, who accompanied him to England.

Abigail Jane, " to her thirteen-year-old son resolutely remarked, "Let your father go with England. I'm taking you and your younger brother with the Saints to the West."

To the union of Abigail Jane Daley and Milo Andrus were born six children: Mary Jane Andrus, born November 1833, at Florence, Huron County, Ohio; James Andrus, born June 14, 1835, at Florence, Huron County, Ohio; Sara Ann Andrus, born May 31, 1837, at Caldwell, Missouri, died 1838 at Caldwell, Missouri; John Daley Andrus, born April 23, 1837, at Woodside, Adams County, Illinois; Millennium Andrus (my mother) born August 31, 1845, at Nauvoo, Hancock County, Illinois; Amanda Ann Andrus, born November 19, 1847, at Council Bluffs, Pottawattamie County, Iowa.

With these five children she arrived safely in Salt Lake City, Utah. The oldest boy, James, 13, had to take the place of a man, and with the help of his brother, John, 7 did the work of a man during that long and strenuous trip across the plains. They walked every step of the way, and barefoot too, along with their sister, Mary Jane, and their mother. They had to to many times to pick the burrs from their feet. At one time, they came to a place where the Indians had been in battle. They picked out some of the hides to cover their feet, as they were sore and bleeding.

My mother, Millenium, was only three, and rode in the wagon with her baby sister, Amanda. Just after my mother returned from Salt Lake City to her home in Oxford, Idaho, after she had attended the Golden Jubilee July 24, 1893, she said to me, "As the parade passed by, my sister, Mary Jane, broke into tears and said, "All it needs to make it complete is James, John, and me to be walking barefoot beside the wagon."

There was no complaining from my blue eyed, Dutch grandmother, who walked each day through wind and rain, or days of blistering sun, on the prairie land, or fording deep streams. She was thankful each night that her Heavenly Father, with his protecting care, had given her strength to do her daily tasks, and to arise next morning with courage to continue on. What joy was theirs when they reached the journey's end that day in September.

Having separated from Milo in 1850, Abigail married Elisha Van Etten. When the Endowment House was built, they had their marriage sealed for eternity on 26 July 1859. Two children were born to this union. But Abigail's love for Milo never ceased. In later years, she requested that her marriage to Van Etten be canceled, which was done on 4 April 1865. On 17 March 1886, while Milo was living at Oxford, Idaho, Abigail and Milo were remarried in the Logan Temple.





James Andrus

Bishop James Andrus of St. George, Washington Co, Utah, was born 14 June 1835, in Florence, Huron Co., Ohio, the son of Milo Andrus and Abigail Jane Daley. He was the oldest son of his father, who had 57 children. He was blessed as a child under the hands of Sidney Rigdon, his parents being already members of the Church.

When about seven years of age, (May 1852) he was baptized, and soon afterwards ordained to the office of deacon. In the spring of 1846, he left Nauvoo, Ill., together with his parents, for the far west, in route for the mountains. His family stayed in the area above Winter Quarters until in the spring of 1848. When James was about thirteen years old, he started across the plains with his mother, one sister older than himself, two younger sisters and a younger brother, having two yoke of oxen and a yoke of cows at their disposal.

His father, Milo Andrus, left his family on the prairie, having been called to go to England on a mission. James wrote, "We had all of our possessions for the family of six in one small wagon, and I took my part, although but a child, in all the guards of both camp and cattle."

The family reached the Valley of the Great Salt Lake in the fall of 1848, with the Heber C. Kimball Company. In the history of his mother, Abigail Jane Daley, it records that James, his brother, John, sister, Mary Jane and his mother walked every step of the way, and barefoot too. James' sister, Mary Jane, in her life history tells of stopping time and again to pick the burrs from their feet. And, at one time, they came to a place where the Indians had been in battle. They picked out some of the hides to cover their feet, as they were sore and bleeding. They often went hungry and sometimes they were cold. James was a boy chum of Joseph F. Smith, who later became President of the Church.





Milo Andrus

In the spring of 1832, I met an elder of The Church of Jesus Christ of Latter-day Saints, though I should say, previous to this, that I had my mind much exercised about a future state, and had read the views of Alexander Campbell, and that being the nearest to the truths of the New Testament, I had been baptized by Elder Orson Hyde, then a minister of that section; but when I compared the scriptures with the teachings of the elder of The Church of Christ, I found that he had the truth; after trying for nearly one year, I yielded to baptism.

One month and nine days previous to my baptism, I was united in marriage to Abigail Jane Daley, whose father had been baptized into The Church of Christ about one year before. We were married February 21st, 1833, baptized April 12th, 1833. I was ordained an elder May 5th, 1833, under the hands of Joseph Wood. Started on my first mission in June, 1833, in company with Joseph Wood, traveled a distance of seventy miles preaching every day and baptized three.

I was then sent to the state of Ohio with Elder John Loveless. We traveled in the south part of Ohio for two months, when we heard of the assassination of the Prophet Joseph and his brother Hyrum. We went home as quick as steam would take us, arrived in time to see their mortal remains, before they were interred. I then went to Carthage Jail, where they were murdered, and saw the floor stained with the best blood of the present generation. The people were all fleeing for fear of justice overtaking them. I called at Hamilton's Hotel to see Elder John Taylor, who was wounded in the jail. Then went to Adams County, where my family had fled for safety. Found them well but much alarmed.

After we had mourned the loss of our prophet and patriarch a few weeks, during which time I was chosen one of the Nauvoo police, I helped to watch the city by night and worked on the [Nauvoo] temple by day--got it so that the work of the endowments commenced in the fall of 1845 and winter of 1846. I spent six weeks of the time in the temple and was much blessed.

During the past four years, we had two more children born, namely: John D. Andrus and Millennium. After the death of the Prophet Joseph Smith, I was ordained one of the presidents of the 10th quorum of seventies. In the winter of 1846, my house, in the basement, was made into a wagon shop, and in the spring I started on our journey to the west. We overtook the main camp at Pisga, and from there went to Council Bluffs, where the government called on us for a battalion of 500 men to go to Mexico. After the battalion was started, I was sent forward with others to the number of one hundred and fifty wagons; went as far as the Pawnee Indian village, then went 150 miles to the northwest among the Ponca Indians. After staying there two months, we went back to Winter Quarters, stayed and farmed in that county in the year 1847, and in the spring of 1848, I was sent on a mission to England. Shortly before I left, Sarah Ann Miles was sealed to me, and she accompanied me to England.

We arrived in Liverpool the first of August, and on the 13th of August [1848] at a general conference, I was appointed president of the Liverpool Conference, which place I filled to the best of my ability until January, 1850, when I was released to come home. During my stay in that conference there were three new branches added and between two and three hundred added to the Church by baptism. I baptized thirty in one evening. The Lord made manifest His power in healing the sick and in blessing the Church with signs following the believers. Milo, Junior, was born in Liverpool, September 30th, 1848.

We left Liverpool in January, 1850, on board of the ship, Argo. Jeter Clinton presided over the company, we were eight weeks and three days on the ship from Liverpool to New Orleans; some sickness and two deaths on the passage. I was sick with the cholera, my wife had poor health all the way, Milo, Jr. was sick; we thought that he would die, but the blessings of the Lord brought us through. We came up the Mississippi River on board the steamer "Uncle Sam", Captain Van Dosen, master. We landed at Kanesville early in May; was organized in the first company of Saints early in June. I was chosen captain over 55 wagons. We had a good time on the plains, arrived in Salt Lake City on last day of August, having but one death on the journey, that of a stranger going to California. I baptized 15 persons on the journey. James Leithhead and Richard Hopkins were clerks of the company. A more full account of the mission to England is recorded in the 10th quorum of seventies record.

In the spring of 1854, I was sent to Saint Louis to preside over the stake there. Stayed there one year, rebaptized and confirmed about 800 saints. Was sent up the river to buy cattle for the emigration of 1855, and in the fall was appointed by E. Snow and D. Spencer to bring the last company of 63 wagons home; arrived in Salt Lake City in October, and in December same year, married Elizabeth and Ann Brooks and Jane Munday. In February, 1857, married Margaret Boyce and in February, 1858, was married to Emma Covert. Was acting bishop of Big Cottonwood ward in 1858, and in the fall of 1859 was appointed to another mission to England. The first six months I was appointed to travel in the conferences; the last nine months I presided over the Birmingham District, embracing Birmingham, Warwickshire, and Staffordshire Conferences.

In the summer of 1861, I started for home with 700 saints on board the ship "Underwriter." I was appointed president of the company, had a good passage to New York; no deaths. I was then appointed to take charge of 900 to Florence, Nebraska, on the cars. Stayed at Florence five weeks, and was then appointed captain to take a company of 66 wagons across the plains, and arrived in Salt Lake City in September, 1861. In the fall of 1870, I married Francena Tuttle. In the fall of 1870, I was again sent to the states on a mission. Came back in the spring of 1871. Since that time I have been in Utah on the home missionary list, and to work with my hands for a living. At this date, January 9th, 1875, I am living in St. George, Utah.





Manomas Lavina Gibson

Manomas Lavina Gibson was born in Monroe County, Mississippi,

March 10, 1842, the daughter of George Washington and Mary Ann Sparks Gibson, she being the tenth of eleven children. She has no record of the actual town in which she was born, knowing only the county and state. As she recalls, they were in a farming district apart from actual towns.

Manomas was only four years of age when her parents and other family members became converts of the Latter-day Saints (Mormon) Church and commenced the long journey across the Great Plains to Utah. There were seventeen persons in the group from Mississippi, who joined the Pioneers at Ft. Laramie, in June of 1847. They had wintered at Pueblo, along with many others who later joined Captain Brown's detachment of the Mormon Batallion and came on to Ft. Laramie with them, arriving June 16th, the first seventeen having arrived on the 1st. The entire group pushed forward on the 17th, hoping to overtake the main caravan before it reached Utah. These facts are recorded in the Utah Chronology. The Gibsons were with this company of seventeen who wintered at Pueblo, which was then only a small trading post with a few log buildings. There were only a few other women than those of the Gibson party in the settlement that winter. Mr. Gibson had contracted Mountain Fever (Thphoid) which was their reason for this delay along the route.

Though not yet five years of age, "Aunt Nome" recounts clearly the incidents of that long cold winter. One event stands out prominently in her mind. There were assembled at Pueblo, along with the few Mormon Pioneers, quite a number of traders and trappers who did a good bit of drinking and gambling. One night some of these men were gambling in a building next to the cabin occupied by the Gibsons. An argument arose over the card game, and the Gibson children were terrified at the thought of what was going on so near them, as they could hear every word of the snarling, swearing men. Suddenly there were shots. One man was killed. Keen in her mind today is the memory of that awful night, the loud shouting of the men and their gunfire as they pursued the murderer, who was later apprehended, shot to death and brought to camp for burial. Father Gibson, being a carpenter, fashioned a coffin from rough logs in which the murderer was buried. Much suffering was endured during that long winter and such anguish lest something should happen and they might not get to the Valley.

With the coming of spring they resumed their journey to Utah, continuing with the sick detachment from the Mormon Batallion under Captain Brown, and arriving in Salt Lake Valley July 29th, 1847, five days after the main caravan of pioneers. There was almost a celebration over their safe arrival, as there had been great anxiety concerning them.

The Gibsons remained in Salt Lake during the summer and winter of 1847, and Manomas remembers taking a hand with her brothers and sisters and the others in the war waged on the crickets. The children were given small wooden mallets and did all they could to help exterminate the insects. Then came the great flocks of gulls. She shuddered as she recounted the way the gulls gorged on the crickets till they could hold no more, than disgourged themselves and took on a fresh feeding until finally the cricket horde were destroyed.

Richard Morris and Emma Packer

Richard Morris was the son of Richard and Elizabeth Alexander Morris. He was born in Vernon, England, on the 24th of June, 1835. Not too much information is available relative to the early life of Richard Morris. We do know, however, the family, while not wealthy, were in comfortable circumstances. They welcomed the Mormon Elders in their home in England, and most of the family became members of the church. Richard was converted while yet in his teens, and he was very active in the branch in the vicinity of his home. He was instrumental in converting our grandmother, Emma Packer Morris.

Emma Packer was the daughter of Isaac and Sophia Packer, and was born April 22, 1833, in Reading, England. She was the only one in her family that was interested in the Mormon church. They were people who lived in some degree of comfort, though like our grandfather's people were not wealthy. They were rather haughty toward the Mormon Elders and never changed their way of thinking even though Emma joined the Church.

Emma was, perhaps, especially interested because she was suffering from rheumatism of some sort and was crippled to the extent that it was necessary for her to use crutches all the time. I think we are safe in supposing that Emma Packer, was a very attractive young girl, because she was just that as she grew older.

She became interested in the gatherings conducted by the Mormon Elders and no doubt it was because they taguht that through faith and prayer so many miracles had been wrought. She attended their meetings and because they appealed to her so much she told her mother and sisters about how she felt toward the Mormon Elders. She was met with such bitter opposition that she no longer confided her feelings to them, but she continued to go to the meetings without them knowing just where she was. This information was gathered when Emma's son, David H. Morris, was in England on a mission, as Emma was very quiet and said very little about her home life.

One can readily understand that when there was no one at home in which she could confide, it was only natural that she look elsewhere for companionship, and she found that much needed companionship in Richard Morris, who had joined the church prior to this time and he did all in his power to bring Emma into the fold. At length she was converted and at the appointed time she went with others for baptism. She went up to the waters of baptism using her crutches. She was promised that if she had sufficient faith she would never need them again, and much to the astonishment of all who witnessed, she walked without her crutches from the waters of baptism and never again did she need them.

When her son, David, was in England on his mission, one of the sisters of Emma asked if his mother was still lame. When he told her that his mother had never been lame she could scarcely believe him. When he asked her how she accounted for the miracle, about which she gave him the details, she answered, "Nothing but the spirit of the devil."

Emma suffered with a very distinct relationship of members of her family who could not bring themselves to understand her devotion to this new religion, and in a short time she and Richard made secret palsn to leave England with other Saints and come to America. They left England, November 30, 1855, on the boat, "Emerald Isle, in company with 349 converts. The following day, December 1, 1855, Richard and Emma were married as the boat moved quietly across the English Channel. They arrived in New York, December 29, 1855, and made their first home in Williamsburg, New York, New York, where their first child, Richard Alexander, was born, November 27, 1856.