Recipes
Wed, 01/28/2009 - 3:28pm — jopes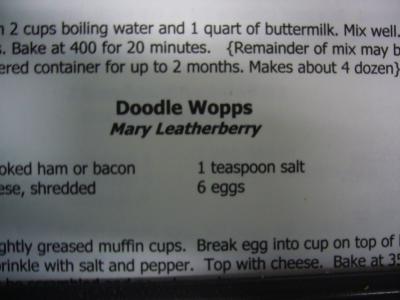 Elizabeth and I decided to try some recipe that we saw a while ago. I got the recipe from Sis. Foster...the amazing women my companion and I stayed with in my last area. She sent me two cook books that she had made for our wedding. So, Doodle Wopps was a fun name and it looked good. So, with some of our left over ham we tried it out! It was really good and was very easy clean up. You can see pictures by clicking here.
Sun, 08/06/2006 - 10:14pm — mike
Well, now that Fast Sunday is over, I would like to show you what I made for a birthday party on my other side of the family. I made Moon Pie. It was pretty good, not as good as when my mother makes it, but it was still good.
I am seeing a trend. I make (and post) all of my desserts and John makes (and posts) all of his great looking food. I'm thinking of getting together and having a feast. Maybe at Provo Canyon? We could play frisbee there and roast some marshmellows. John and I could provide the food, others can provide the fun. I don't know if you have time, but I think I would enjoy that. Think on it, while you read what is in this baby:
Moon Pie
In a heavy sauce pan stir together and cook on med. high until it thickens and forms into a ball:
1 C. water
1 cube margarine
1 C. flour
Cool for a few minutes, then beat in 4 eggs.
Spread on cookie sheet and cook at 425 for 20-25 min. until golden brown. Cool.
Topping 1: 8 oz. cream cheese (softened and whipped)
2 small instant vanilla pudding
4 C. milk
Topping 2: 1 large Cool Whip (16 oz.)
Drizzle Hershey's chocolate syrup over the whole thing (diagonally one way and then the other) and refrigerate.
Have a great week!
-Mike
Sat, 07/29/2006 - 4:47pm — mike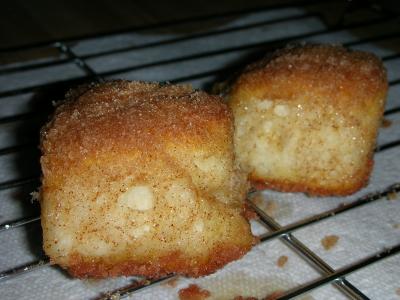 Take Pillsbury Buttermilk Biscuts (or any other maker of biscuts) and dip them in melted butter. Then coat with cinnamon sugar and bake according to the instructions on the bag/can.
Very simple and so good. Sorry about the photo, I forgot to take the picture before my roommates and I ate them. That is why there are only two. They tasted great!
Sat, 07/29/2006 - 4:40pm — mike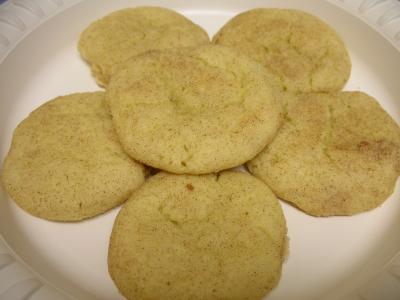 1 C. softened butter
2 C. sugar
1/4 C. milk
2 eggs
1/2 tsp. baking soda
1/2 tsp. cream of tartar
1/2 tsp. salt
1 tsp. vanilla
3 3/4 C. flour
Beat butter, sugar, eggs and milk until fluffy. Add dry ingredients, beating until well combined. Form dough into 1" balls and roll in a cinnamon-sugar mixture. Place balls 2 inches apart on a greased cookie sheet Flatten slightly. Bake at 375 for about 8 min.
Sat, 07/22/2006 - 10:00pm — mike
Sun, 10/16/2005 - 9:24pm — mike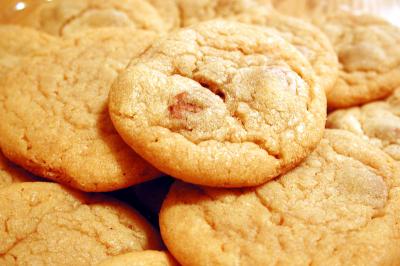 1 1/2 Cups - White Sugar
1 1/2 Cups - Brown Sugar (Packed)
2 Cubes - Butter/Margarine
3 eggs - (Chicken) Ü
1 Cup - Shortening
1 Tablespoon - Vanilla
1 1/2 teaspoons - Baking Soda
1 1/2 teaspoons - Salt
5 Cups - Flour
1 (12 oz.) bag - MILK Chocolate Chips
Mix in that order. In order to make the PERFECT cookies, you MUST use MILK chocholate chips. Others may try to turn you to the Dark-Side using their "firery (semi-sweet) darts". If you fall into the temptation, you will only have a semi-perfect cookie (which is a bad thing). Anyway...back to the PERFECT cookies. Roll cookie dough into balls, with your hands (this makes them perfectly round when cooking). Place the balls on an UNgreased cookie sheet (they already have enough butter and shortening in it). Bake for 8-10 min. at 375˚. Pull them out and wait for the cookies to set. Then you may go ahead and place them on a cooling rack... or just eat them before the kids come home from school. Ü
Mon, 08/15/2005 - 8:40pm — joefree
Mon, 06/20/2005 - 11:06pm — joe
Sun, 06/19/2005 - 3:29pm — johnandjenn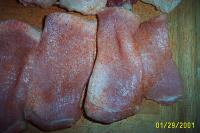 3-5lbs of Pork Chop
Worchester sauce
Tabasco Sauce(Original, or Chiptole), ~Substitute favorite hot sauce
Any number or barbecue sauces depending on your families taste.
Orange Juice, Frozen or mixed.
Season All
Take nice thick pork Chops, Costco seems to be the place that provides the best ones here, running about 1 3/4 to 2 inches thick.
Slice the chops right after buying, or if frozen slice them partially frozen, the thickness depends on
What you would like to use them for I go about 1/3 to a 1/2 inch, I cut them long ways so that I can
Keep the fat to one piece (you can discard the fat is you want, cooks preference.)
Thu, 12/09/2004 - 11:28pm — John
Ingredients:
3-5 cups each of
Regular rice crispies and Coco crispies
1 Bag of Marshmellows small or large
a Good Spatula full of butter(nice eh?)
A heaping Spatual of Peanut Butter(personal preference is Jiff)
Additional Varitions might include: