Manoel
Mon, 11/17/2008 - 8:16pm — Richard
I have yet some more pictures from Saturday's activities. They are on my Picasa site.
Enjoy.
Sun, 08/24/2008 - 10:11pm — joefree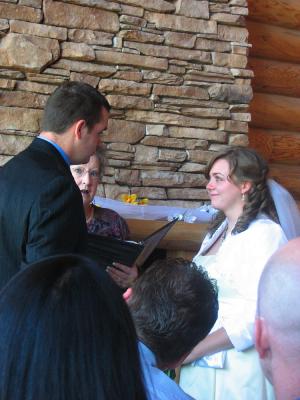 Here are the first few pictures, and a couple of videos, we took of the wedding. There should be some more really nice ones coming from the Ginters.
More info later...
Sun, 07/13/2008 - 9:30pm — Richard
In case you did not see it, Manoel was quoted in the Daily Herald on Saturday talking about the Brazilian bicycle rider that he had met in Paragonah at Grandpa's house. Here is the text of the article with a link to full thing.
Brazilian biker shares his love of nature
Joe Pyrah - Daily Herald
He doesn't have corporate sponsors. He's not protesting a war. He doesn't have cancer.
What Renato Campinho does have is a bike and a love of nature that has driven him tens of thousands of miles from his home in Sao Raimundo Nonato, Brazil.
"For some people, this sounds crazy," Campinho said through an interpreter. "But it's not."
A wiry 5-foot 7-inches, the Brazilian is lighter than his old Italian 5-gear bicycle loaded down with gear. Newspaper clippings sheathed in plastic about his journey through South and Central America cover the tarp that now shrouds his bike. It was installed by well-wishers in Arizona.
Leaving home with little money, he has made his way mostly by the kindness of strangers to spread a message about preserving the environment. After getting a six-month visa to enter the country, he has been through Arizona and is now making his way through Utah. In Provo, the Silvas have taken him in.
The Brazilian family heard about Campinho when a nephew, Manoel, met him pedaling through Paragonah in southern Utah. Manoel told him to stop by in Provo when he came through. While here he's received free bike service (thousands of miles means hundreds of tires) and will be getting his rear brake pads replaced.
"Everybody helps him," says Rosana Silva. "It doesn't matter if he speaks the language or not."
The air-conditioned Silva home, with its big-screen TV and pool in the backyard, is a far cry from the rocky overhangs where Campinho has spent nights in a tent. Pictures and choppy video on a donated digital camera show country after country and hill after hill. One video shows the bike speeding down a steep decline.
It's on the upswing that the traveler has had problems. Though he's so far avoided traffic accidents, the weight of the bike has brought him over backward several times when a hill gets too steep.
He doesn't have what would be considered an education in this country. He can read Portuguese, but can't write it very well and was a beekeeper in Brazil. While he doesn't have a family of his own, he is one of 16 siblings.
"He's very humble. Very humble," said Rosana Silva, who doubled as a translator on Thursday.
How does he keep the legs pumping over the long miles? A large bowl of rolled oats (oatmeal) every morning and a lot of fruits and vegetables. He won't drink soda or alcohol.
He doesn't have a specific itinerary to follow, only hoping to now get to Canada, Alaska and then to Russia, Japan and beyond. Brushing off the heat or nights asleep on the ground, his hardest times have been the "crazy winds" of Arizona, he said.
"He's a very little guy and he goes with the wind," said Silva with a laugh. Did You Know:
• Renato Campinho has biked through every country in South and Central America and is now in the United States.
• Days on the road: 484
• Age: 37
http://www.heraldextra.com/content/view/273206/17/
Sun, 11/04/2007 - 9:16am — joefree
Most of you got these emailed to you. But I thought it would be nice to have a them online as well.
Here ya go... (by the way, we are looking for more!)
click to see slideshow->
Mon, 03/26/2007 - 11:34am — joefree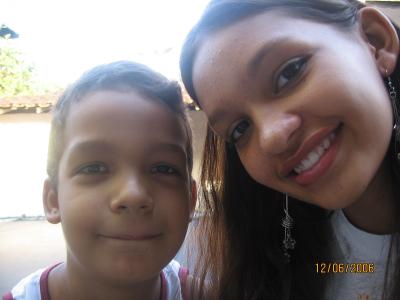 For my birthday Mom and Dad included a CD from the Silva's. I have put it online for your viewing pleasure. It was so fun to see the videos and realize how perfectly we fit together. I would love to sit in the kitchen quoting movies and eating those yummy looking beans and rice.
Thanks for the tours of the rooms by Manoel and Eliane and Rachel. They were great. And Ammon gives the best tree tours around.
I just uploaded it all and it turns out the videos are pretty big...so you have to be patient while they load, but when they do they are worth it!
Thanks again!
Here are the photos and movies
Mon, 06/27/2005 - 7:41am — joe
Mon, 12/13/2004 - 10:58am — rach
The other night we went out for hamburgers, and Ammon was happily taking bites, sipping pop, taking bites, as is his custom. Well, Manoel thought he
Thu, 12/02/2004 - 10:50am — rach
Manoel has found stonger and more lethal ammunition for his blow gun. Raisins. You can imagine our joy at finding raisins all over the house, although, if we get hungry, we can just bend over and pick one up...yum, yum. Getting back to the point, there was a little mouse who wanted to move in with us. But, Manoel the great attacked him with his raisins - and he is no more!! We decided that this was better to be just a post, and not a post with a picture...