James & Heather
Mon, 11/17/2008 - 8:16pm — Richard
I have yet some more pictures from Saturday's activities. They are on my Picasa site.
Enjoy.
Sun, 08/24/2008 - 10:11pm — joefree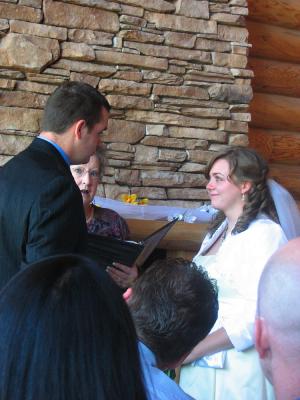 Here are the first few pictures, and a couple of videos, we took of the wedding. There should be some more really nice ones coming from the Ginters.
More info later...
Sun, 11/04/2007 - 1:00pm — Jen
On Saturday November 3, 2007, we got up early to go hiking and fishing up American Fork Canyon. The hike was long and exhausting. We were impressed that James and Heather's dog Fender made the hike without a problem! We saw a total of 12 moose while hiking up to the lake and almost got chased by a cow and calf moose, which was kind of scary. James caught three fish, Jen caught one, Jessica caught one, John caught one, and Heather caught one. This was Heather and Jessica's first time fishing!
click to see slideshow->
Thu, 05/24/2007 - 7:24am — joefree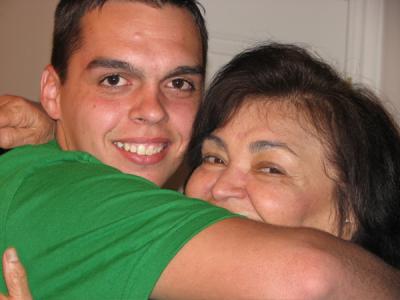 Here are a few pictures of all those who have good wishes and admiration for Justin as he enters the MTC.
We had a lovely family Home evening in Rosanna and Pedro's house. Marilee and her girls sang "Sweet is the work" with their beautiful voices blending wonderfully. That set me up to teach the lesson on fear faith and the spirit. Justy is such a good example of humility, like Mike, that it was easy to show how being filled with charity will make them fearless as he enters into the unknown, possibly fearful, work of teaching the gospel. It was also easy to show by his example that remission of sins brings the gift of the Holy Ghost which in turns gives the gift of charity. In that audience it was natural to testify of the invitation of the the savior for all, no matter their transgressions, to come to him and become clean. We had a nice outpouring of the spirit.
Amazingly the member of the Mission Presidency who came to set Justy apart was our Mission President when we were in the Rochester Mission. That made his setting apart very special. Interesting how the Lord blesses us continually.
Thu, 12/07/2006 - 12:40pm — joefree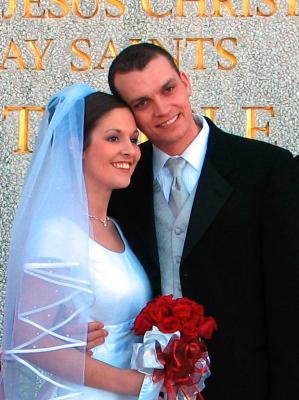 I got a package in the mail today with a CD and two words "blog please". So here are the anticipated wedding pictures! Congrats James and welcome to our family Heather. We love you both and wish we were with you at your wedding. We are looking forward to getting to have you all down here!
Mon, 08/28/2006 - 9:03am — joefree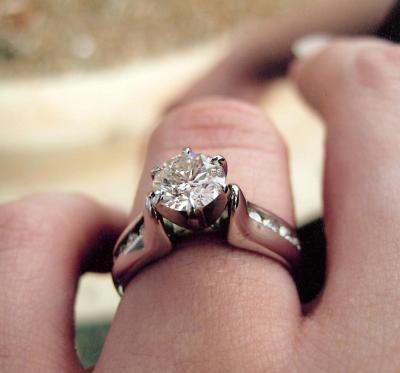 Hey a ring! Look closely and see if you can see a reflection in it...you might have to click on the picture and view one of the larger images to see whose happy faces are reflected there...
Then take a look at these pictures!