Education
Wed, 11/02/2005 - 8:00am — Isabel
Sat, 08/27/2005 - 9:34pm — joefree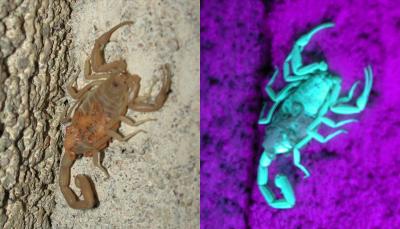 Tonight we went on a scorpion hunt in our yard. You have to do that every so often, seems to be the only effective way to keep them out of your house. So we go out with a black light and some walking sticks and look for the bright green specks on the walls. It is pretty exciting. Our good friend, and new Mesa resident, Dan Crites, came over to help us get 14 tonight! (It has been awhile) He had two of the hardest catches, one high up in the eaves of the house, and one on the branch of some vines. Thanks Dan!
I realized after talking to Brett that many of you haven't been hunting with us. Here is a couple of pictures I took some time ago of a mother scorpion with babies on her back. I shot it also with the black light on. It was hard to hold still... Just looking at these and yo
Sat, 08/27/2005 - 9:26pm — joefree
Mon, 08/15/2005 - 11:56am — joefree
Fri, 07/22/2005 - 6:13pm — melinda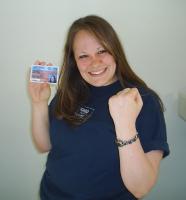 Well, today I left work a couple hours early and went with my Dad down to the DMV. I filled out the paperwork and then began the wait for the driving test. Finally my name was called and I went outside to take the test. I did well in the preliminary test (u-turn and 3-point turn...harder than it looks in a big Suburban beast), and then waited my turn for the drive with the judge. I actually started up the conversation with the judge, and my drive went smoothly. I was most worried about parking at the end, but that turned out just fine. I got out of the car with a big smile and a signature on my paper saying I could have a driver's license! Happy Day Ü !
Mon, 05/16/2005 - 11:22am — joe
Michael and I went to the family history library here in Mesa on Wednesday night. We looked up in the 1881 british census James Bivence Wheeler (he was 17) and Rachel Talmage (she was 19). One of the cool things about the census is that it gives you an address. So we googled around and found a site that would make a street map of Newbury, Berkshire, England. We thought it would be fun to see how close they were together. So here is a map showing the Dibley home (on Northbrook street) (where Rachel was) and the Wheeler home (1 Prospect Place). I can imagine a lot of fun drives between the two. I guess it was soon after that that they got married and came to America leaving their families behind. There are a few pictures of them on the site: James at 12 , James at about 20,Rachel, James and Rachel with their family at Wheeler Ranch west of Pioche, Nevada and one more of James and Rachel together.
I was just searching for more info and found a house for sale at the end of Prospect Place...1 Prospect place was probably at the end...any way here is the picture I found.


Sun, 12/12/2004 - 11:23am — dave
Wed, 12/08/2004 - 10:54pm — joe
Thu, 12/02/2004 - 10:50am — rach
Manoel has found stonger and more lethal ammunition for his blow gun. Raisins. You can imagine our joy at finding raisins all over the house, although, if we get hungry, we can just bend over and pick one up...yum, yum. Getting back to the point, there was a little mouse who wanted to move in with us. But, Manoel the great attacked him with his raisins - and he is no more!! We decided that this was better to be just a post, and not a post with a picture...
Tue, 11/23/2004 - 11:56pm — joe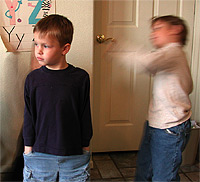 Adam had his stage debut today. His preschool put on a little Thanksgiving program. He knows his songs and actions but wanted to see if he could hold still. Anyone can follow the crowd, he wanted to see if he could resist. We took video of the program but it pretty much looks just like this picture. Notice his classmate in motion!


Tue, 11/23/2004 - 11:39pm — joe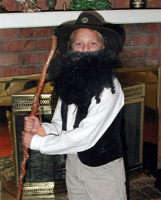 John Muir was seen in Mesa tonight. However, that face looks familiar. Daniel's sixth grade class put on a wax museum tonight. Each student picked out a character, did research, wrote a report, made a poster and then dressed up for the parents and family to see. They were very good at holding still...even when their Dad's tried to make them laugh!