Jess in Romania
Mon, 03/10/2008 - 10:42pm — dave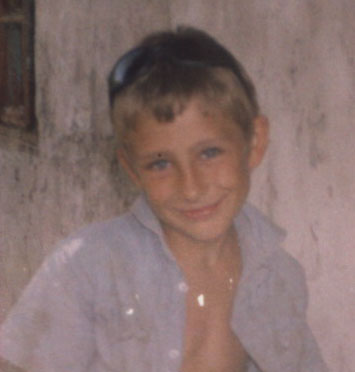 I think most of you are aware of the little boy named Marius that Jess met in Romania and we, along with a growing group of others, are trying to help get better medical attention and care. Steady progress is being made and thanks to your fasting and prayers miracles have and are occurring. I'll let Kristin fill you in on those while I focus on the more mundane.
We have set up a website for the effort at www.teammarius.org. It is in its infant stages but one of the features is an opportunity to send a message to Marius. Submitted messages will be translated and read to Marius to help brighten his days. So if you get a chance, send him a message.
This is a picture of Marius taken before the accident.
Tue, 02/05/2008 - 10:16am — dave
Buna Ziua!
Wow there is so much to say and so much to be thankful for these last couple of weeks! First of all, I can't believe that I have been here for a month! Time definitely flies when you are having fun and working hard. It is kind of a bittersweet reality because I'm definitely excited to go home, and yet I have come to feel very comfortable here and I love the kids I work with. The girls from previous semesters told us that it would go by fast and I definitely believe them now. I don't even know where to start and last week Mckay told me that my email was too long, so I'll try and cut down a little. It might still be a novel, but it will be a smaller one.
So we got into the orphanage last week and at first we just went around all of the different rooms. There are a couple of different sections in the orphanage and each has a Disney name. There is Donald Duck, which is also called isolation. There is Mickey Mouse, which has two rooms. And there is Bambi, which also has two rooms, one for the boys and one for the girls. The first day we just spent a couple of minutes in each room getting a feel for the kids and the workers. It was so great that first day to see all of the kids and to know that we were actually finally going to be working there! The next couple of days we moved around quite a bit. There are a couple of apartments in Iasi that have 4-5 kids that live in them. They are kind of like a branch of the orphanage and sometimes these kids will come and visit the orphanage. We visited two of them last week and then on Thursday we were back in the orphanage. Thursday we told our facilitator where we would like to be working so that she could decide where to put each girl. It was so hard to choose a room that I liked the best and I wanted to be in the room that Heavenly Father wanted me in. Friday morning we found out what rooms we were to be in after we got to the orphanage. It was a tense exciting moment! I found out that I would be working in the room that I wanted to work in! My room is one of the Mickey Mouse rooms and there are quite a few kids (they have kept me busy!). It was kind of intimidating walking in the first day because I wasn't sure what I was going to do with them and I was worried that I wouldn't be able to fill the full three hours. But, so far so good. We just finished our first full week of working in the orphanage and I feel so close to the ones I work with. A couple of the children in my room are very smart, they just have handicapped bodies. This makes it easier to figure what they need and what they want, but at the same time it is harder because if I can't deliver or I don't understand what they are saying they get frustrated. It's hard to tell them no, and yet it has to be done sometimes. I hope they still know that I love them! There is a little girl that I princess Larissa. She is in a wheel chair but she can move around quite a bit when she is taken out and she is very talkative. She loves to mimic things I say and even knows popcorn popping in English. She's a character and keeps me busy. There is a little boy who's name is Alex and he is 9 yrs old. He has cerebral palsy, which is what I did a research paper on, so I have been spending time with him and trying to work with him. He can't speak, but he is very very smart, and is said to be the highest functioning child in the orphanage. To communicate he uses his eyes. It is the cutest thing to see him look at me and then look at my pocket and then look back up at me. I don't understand what he wants all the time but he'll do it again and again until I get it. There are a couple of toddler age kids in my room too. They are fun to play with because I don't always have to talk to them and I can just sit and play with them and I know that they like it. One day I was playing with Alex and Larissa on the mats because they had both gotten out of their wheelchairs. Alex was on top of me (he finds it hysterical to smash me) and Lari was on the side of me and then the little ones came and up and started tackling me too. I was struggling to breathe there were so many kids on top of me. It was so much fun though because all of the kids were laughing hysterically. They really got a kick out of it. Overall the orphanage is great and I really enjoying going every morning. So far I haven't had any problems with any of the workers, lets hope they continue to like me.
The hospital is just as great as the orphanage. It isn't as structured as the orphanage and we don't always work with the same children either. There are eight floors in the hospital that are allowed to work on. We go to each floor and ask the nurses if they have any children who don't have mothers. Usually they say yes and then we are allowed to go and play with them. We always bring diapers for the kids and anything else that we think they might like to play with. Some of them actually do have parents but they can't always be there and that's where we come in. The hospital rooms usually have 3 or 4 other babies in them with their moms and there are windows on both sides of the rooms that look into the rooms next to it. There is nothing private at all about the hospital and it is pretty primitive. The moms will sometimes talk to us and try and help us understand what the nurses or saying or what someone else is saying. They are really great and a lot of fun to get to know. Sometimes they will just stare at us and moms from other rooms will come in and stare at us too. It's a little awkward, but they're harmless so it's just funny. There isn't much ventilation in the hospital because they don't really believe in opening the windows so every time I go in I feel like I am breathing pure germs, it's not a very comforting thought so I try not to think about it, but I haven't gotten sick yet either so I'm very grateful and I will keep going until I do get sick. The language is coming along, but very slowly….haha people still sometimes laugh at us when we try and speak Romanian. The other day one of the girls was in a taxi telling the driver where she wanted to go. He said something to her and she had no idea what she was saying so she just repeated where she wanted to go again. This happened several times and she just kept saying where she wanted to go. Finally he pointed to the seatbelt and indicated that she needed to put it on. We were talking about this later that night and we compared it to a tourist in New York. The cab driver would say put on your seatbelt and the tourist would say Empire State building and would keep repeating it every time the cab driver said something. He would definitely think the guy was crazy. We are pretty sure that everyone here thinks we are weird and somewhat stupid because we always repeat the same thing. My favorite phrases in Romanian are Nu inteleg (I don't understand), nu stiu (I don't know), and nu vorbesc romaneste (I don't speak Romanian). They are probably asking me a super simple question like what is your name and I'm saying nu stiu, nu stiu….I can only imagine what is going through their heads. ☺
Each week on Sunday we have a group a meeting where we talk about our highs and lows of the week and plan for the next week. I love these meetings because we get to just sit and relax and get to know each other better. As I had time to think about what I was going to say as my high and low I realized that I didn't really have a low for the week. I kept trying to think of one, but nothing came to mind. I find that the longer I am here and the more attached I become to the kids the less time I have to think of myself and my problems. It's also easy to forget about my problems when I see so many around me that are struggling more than I am. I have always been told that when we lose our self in the work and serve others we don't think about ourselves, but I have never really had an experience of my own like this and I am so grateful for this realization. I have also found that the spirit comes more readily when I am working with these beautiful children. It always seems to be at my fingertips and there to guide me in working with the kids. It is a great feeling. At times when I encounter something heartbreaking the spirit is always there so that even though it is sad moment it is also a happy moment because the spirit is present. Does that make sense? Anyway, I am so grateful for the Lord and for his awareness of me and the children that I am working with. I couldn't do it without him! Please pray for these wonderful children and their little spirits!
Cu drag,
Jessica
xoxoxo
Fri, 02/01/2008 - 12:07pm — dave
Here are new pictures from Jess. She's now spending half the day in the hospital and half the day in the orphanage. Beautiful children...
Mon, 01/21/2008 - 8:33pm — dave
Sorry it's been awhile! I have had one crazy week and a half. It's hard to keep up on things because there is always so much going on. I have been to the hospital a couple of times, which was an amazing experience. The little girls that I played with were so sweet. One of the other girls went back a couple of days later and both of the girls that we had been with were gone. That really shocked me because I just assumed that they would be there for me to play with again. I'm not exactly sure where they went, but I'm assuming it was to an orphanage. I was kind of heartbroken but I understand that it's part of the process and that it's something I'm going to have to deal with. The second time I went I also worked with a little boy who looked about a month or two old. He was all bundled up in about 3 different sets of clothes. His name was Andrei and he was a very good little baby. He didn't cry once. Jocelyn and I were with him in his room and there was also two other mothers with their children and a girl who looked about our age on the other bed. She left and came back in and kind of gave us a weird look. We were worried that she might actually be the mom so we put the baby down and Jocelyn asked the moms if Andrei was her son. They looked at us and laughed and told us that he didn't have a mom. When the girl came in the moms told her what we asked because they all started laughing and looking at us. It was a little awkward because we didn't really know what they were saying but we knew they were talking about us. Better safe than sorry though, right? So every time we go into the rooms we change the diapers of the little ones with the diapers that we bring for them. We usually just hold them and play with them. I brought some toys with me and I love giving them away because the little kids love them. It is so much fun to see their faces light up over the littlest thing. Thanks Jeremy and Madison for helping me pack the toys! The ones at the hospital love the pin wheels! We haven't been able to get into the orphanage yet. There is a whole system that we have to go through to get approved to work in the orphanage. I had to turn in a resume and money to get it through. We were hoping that we would be able to get in this week, but so far we aren't. It's really frustrating to come here expecting to do something and then not being able to do it. We have had so much time to explore and do homework, which is great, but I can't wait to start a schedule and start working with the children.
Since we weren't able to get into the orphanage last week we decided to take a little trip to Brasov. Brasov is in the mountains of Transylvania and to get there we had to take a 9 hour train ride! We wanted to take a night train but they didn't have any going to Brasov so we settled for a day one. The train ride was pretty cool. It was my first adventure on a train for that long and I was so excited to see what it would be like. We took a taxi to the train station and then loaded onto the train. The train ride was so much fun and the countryside was beautiful! Romania is so pretty and I already have such a love for this foreign place. It's definitely where I am supposed to be. We arrived in Brasov around 8 and got into the hostel that night (my first time). It was different, but we had one room for all of us so I felt like I was getting eased into the whole sharing a room thing. We were busy for 2 full days touring old Brasov and the three castles that we visited. Some old man on the street told us in French that he thought we were very pretty. It was kind of sweet and made us all laugh. We got some great ice cream in the square and found our own way around the city. It's very empowering to figure out where you want to go and then to get there. The funniest thing was that Brasov had a Hollywood sign on the mountain, except of course it said Brasov. Definitely a tourist city. The second day in Brasov we went on a tour of three different castles. There were eight BYU girls, 2 Romanians (a brother and sister named Vasille and Elena) and two French girls both named Claire. Vasille and Elena were very helpful the whole trip. We climbed onto this bus/taxi and headed to the first castle. The ride was a bit bumpy (okay a lot bumpy) and I definitely saw my life flash before my eyes. But I'm still alive! It was it's own little adventure. Vasille and Elena spoke both Romanian and English and so translated whatever the driver said. It was really cool to get to know them and what there lives were like. We stopped for lunch and all 12 of us sat down together and ate great food and had great conversation. The castles were beautiful and all of them sat on hills overlooking a valley. It was a lot greener in the mountains too because of all the evergreens. So pretty! The first one was Peles, which belonged to the first king of Romania, the second one was Bran castle (also known as Dracula's castle), and the third one was Rasnov, it was more like a fortress. If you want to see pictures go to thefrees.com (thanks dad!). We made it back to the hostel a little later then planned, but our train didn't leave until 11pm so we had time to kill. In that time Vasille and Elena taught us how to make mamaliga (corn mush—surprisingly very good) and really really good scrambled eggs. It was a true Romanian dinner with true Romanians. The train back to Iasi was a night train and so we slept most of the way. When we got to Iasi all of us were still sleeping and the conductor guy had to come and tell us to get off. We were all in a hurry to get our stuff and get off and hoping that the train wouldn't start moving again. Overall the trip was awesome. I think it was good for me too because it made Iasi seem a little more like home.
I can't believe I have only been in Iasi for two weeks now. It feels like so much longer than that….and yet time is flying at the same time. It's weird how that works. The branch here is so great! I love every single activity (and there are a lot) and every single person. The branch president is absolutely amazing and the people are so warm and welcoming. Again, it's weird that I have only known them for 2 weeks, I feel so close to them. I received my calling last week to be a Sunday school teacher! Kind of overwhelming and definitely humbling. It's Sunday school for the adults and that kind of scared me too. To make it even better I am teaching marriage and family relations ☺. Haha, I definitely don't have any experience, but I have great parents as examples! I got set apart on Saturday night and it was truly a special experience. The missionaries and the branch president were there and having their hands on my head and feeling the power of the priesthood was very comforting. Blessings are great and I'm thankful it's the same anywhere you go. I taught for the first time yesterday and I think it went pretty well. I had a missionary translate for me. Let me tell ya, it's a lot easier to teach in your own language. I felt like I was repeating myself and I'm not sure if I got through to them. There was also only one person in the class who was married, which made it a little weird. But hey, for those of us who aren't married it's good to know what we should be striving for right? I'm just glad it's over and at least now I know what to expect next time. The members were great though, they participated a lot and I was so thankful for that.
So good news! We just found out that we got into the orphanage and that we are going to see it tomorrow! I am very excited! I can't wait to see what it will be like and to see the children. We still have to decide where we want to be placed which might be hard, but I'll go wherever the Lord wants me to be. Working with any of the kids will be a blessing. I better get some rest….big day tomorrow!
I love you all.
Xoxox
Cu drag,
Jess
Sat, 01/19/2008 - 11:36am — dave
Here are more pictures from Jess in and around Brasov. Also additional pictures got added to the slideshow from day 1, so if you checked them when they first went up, you may want to check them again.
Thu, 01/17/2008 - 1:48pm — dave
Jess is on a bit of a field trip doing some sightseeing--going to dracula's castle before she is done. Here is the first set of pictures. Click on the arrow to watch.
Sat, 01/12/2008 - 3:47pm — dave
So I am online again...our new apartment has wireless!! It's a free one, and I had a feeling to check it tonight and I have it!! I am so excited!! This will make my life so much easier!
We have had a branch activity like every night this week starting on Wed. Wed and Thursday are Outreach. Friday we had a branch activity especially for us so that the branch could get to know us. It was so much fun. I really already love these people. They are so sincere in everything they do. We went around the room and introduced ourselves and the branch president said all he wants to do is to make the church bigger and take care of his little branch. Both of his children are mostly inactive and his wife lives in Greece working. She is a member too. What a hard life though and yet he wants to give all he has to the Lord. A guy that just recently got baptized said some of the same things. And you can tell they really mean it. Saturday (tonight) we went to meet with the branch prez so that he could give us our callings. I have been called to teach once a month in the sunday school!!!!!!!!!! Ah, scary right? I know it's the calling for me though. He asked me if I liked teaching from the scriptures and I said yes, and at that point I knew I was going to be called to teach. He said he had thought a lot about me and that this was the calling for me. The church is so amazing! I can't wait to go to church and to feel the same spirit I do at home. There are two sets of missionaries in Iasi. There is a senior missionary couple but they are going home on tuesday which is sad because I already really like them!! Well i love you and I'm glad your day was good!
Thu, 01/10/2008 - 12:29pm — dave
Tue, 01/08/2008 - 4:57pm — dave
Hi friends and family,
I have arrived safely in Romania! After a long and restless journey to Vienna, we took an hour and a half plane ride to the city of Iasi, Romania. What a shock. After waiting since April to come I am finally here and experiencing what I have learned about for the last 4 months. Crazy! Even thought the airport was an international airport, it was tiny. The plane just pulled up to the front of the airport and dropped us off. We had to walk down a ramp in the snow to get to the room where they checked our passports. After waiting in a line for a couple of minutes I was officially allowed to be in Romania. I had two huge bags that arrived with the plane and it was a joke trying to get them outside and past everyone else that was in the airport. It was snowing a little bit when we arrived and we had to wait outside until there were enough taxis to take 5 girls and their luggage to our apartment. Lets just say people were definitely staring :) Iasi is a pretty big city and not exactly what I was expecting. It's great though to finally be here. It's definitely different. My apartment consists of 2 bedrooms, 2 bathrroms, a front entry way, a kitchen, and a living room. It's kind of small but there is enough space for all of us to fit until they get a second apartment for us. The people here in Iasi look suprisingly well off which kind of shocked me because I was expecting them to look like they were stuggling or poor. I feel very out of place in my sweats and sweatshirts :) At least I'm warm!! The bread here is absolutely amazing and even the though the milk is kept on the shelfs in little carton containers I love it! I hope you are all well and I love you all! Thanks for all you do for me1
love jess
Mon, 01/07/2008 - 11:52am — dave
So I made i! The plane ride to Vienna was long but bearable, I can't believe I am finally here :) I sat next to an old lady who I assume was from Vienna, I couldn't understand what she was saying. She stole my seat though so I got stuck on the aisle. Nu buna especially since I wanted/needed to sleep. As you know they made me check my green bag which I was kind of upset about. I didn't want that thing to leave my sight. I love that bag! Anyway they took it and me and Katie both put our bags by the front door of the plane to be put below. We arrived in Vienna and we were all so tired and giggly. People were definitely staring at us. We weren't exactly following what we learned for the last four months. We weren't blending in, we were kind of loud because we were laughing, and we were so excited because it was the first time any of us had been in Europe (and now i'm living here, crazy). It was so much fun though and it felt good to laugh. We took a bus out to the runway to get on this tiny plane that only had 14 rows. Really though it was only 13 rows but they skipped the 13. funny. We arrived in Iasi!! It was snowing and there were lots of trees and the Iasi international airport is kind of a sad sight. Half of it is outside and it only consists of one room where our passports were checked. There was some sort of security guard asking us all weird questions. He asked me how many dollars I had and I told him 40 and he looked at me like I was lying. He asked another girl if she had 2 million dollars. Weird. We finally got out of the smoke infested room and went to get our luggage. I then learned that my green bag was missing. I wanted to cry. Katies bag came in but mine wasn't there. I reported it and it is supposed to come tomorrow, hopefully!! I hope it wasn't stolen. I wanted to be the first one out there to get my bag, but I had to wait in line to get my passport checked so I wasn't. I was the last. I am really hoping it wasn't stolen. Pray that I will get it. We took kind of a scary taxi ride throught snowy weather and slushy roads and a hill to get to our apartment. The house are very colorful and there are people everywhere. It almost reminds me of New York except that it is dirtier, not as big, and not as nice. It has some pretty run down buildings. Everyone I have seen is dressed surprisingly well. It's weird to see that because I thought that the people were struggling and poor. There are some nice cars as well. We went to the alimantara (supermarket), bought phone cards, and bought some bread. I am now at the internet cafe. It is pretty cold here but not as bad as i thought it would be. I hope my green bag comes because it had both sets of boots in it. Oh and it was a pain to get my baggage to the curb into a taxi and then up the street to my new apartment and then up the elevator which is really only big enough to comfortably fit 4 people. maybe. It has definitely been an adventure and so far a good one. I just hope my bag comes! I love you all and can't wait to here from you :) I'll probably be calling in a little bit so this will be a repeat.
xoxo
jess