Rebecca awarded for Patience!
Wed, 11/24/2004 - 8:55am — joe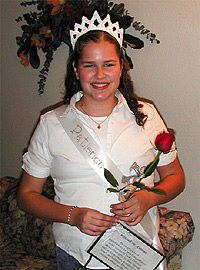 On November 11 the Grandview II ward Young Women had their Evening of Excellence. It was the culmination of each Young Woman picking a personal spiritual gift they wanted to work on. Rebecca chose Patience. There was a beautiful setup like a beauty pageant with flowers and lights and steps onto the risers on the stage. Some lovely music was playing and then they would read about the Young Woman. Here is what Rebecca's said:
Becca gets lots of opportunities for practicing patience in her wonderful family. Patience allows other gifts to shine through, such as forgiveness, an understanding heart, and kindness. Becca wants to continue working on this great gift.