Adam's stage debut...
Tue, 11/23/2004 - 11:56pm — joe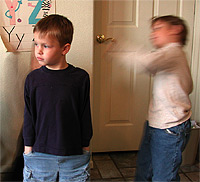 Adam had his stage debut today. His preschool put on a little Thanksgiving program. He knows his songs and actions but wanted to see if he could hold still. Anyone can follow the crowd, he wanted to see if he could resist. We took video of the program but it pretty much looks just like this picture. Notice his classmate in motion!