John Muir visits Mesa...
Tue, 11/23/2004 - 11:39pm — joe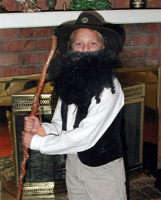 John Muir was seen in Mesa tonight. However, that face looks familiar. Daniel's sixth grade class put on a wax museum tonight. Each student picked out a character, did research, wrote a report, made a poster and then dressed up for the parents and family to see. They were very good at holding still...even when their Dad's tried to make them laugh!