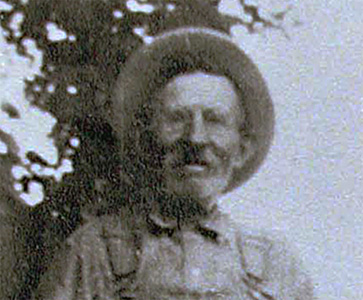 Anders Gustaf Blad
as recorded in the book "A Century in Meadow Valley"
Anders Gustaf Blad was born in Skattegarden, Hangelosa, Sweden, July 21, 1844, the son of Sven Anderson Blad and Eva Marie Palmgren.
He was the oldest of a family of five children and spent his young manhood following the fishing industry in Southern Sweden and as a sailor on the fishing boats. He came to America about 1868.
Little is known of his life between the time of his arrival here and his marriage. He married Mina Albertina Andersen, of Eidsvoll Akershus, Norway, November 26, 1879, in Salt Lake City, Utah.
He worked for a freight line, hauling freight between Salt Lake City and Pioche, Nevada. After about two years, in February1881, he moved his wife to Nevada from Salt Lake City.
Their first home was a sort of camp in the area of what is now Oak Wells, where Gus, as he was called, burned wood for charcoal. This he hauled to Bullionville for use in the mills. While still living at Oak Wells their frist son, August Wallace, was born March 31, 1881. He lived only two weeks, died April 15, 1881.
That same year they moved to Bullionville where Gus worked hauling ore, tailings, etc., with his team.
On May 29, 1882, their daughter Anna Matilda was born. Soon after, they purchased a lot, built a house on it and moved to Panaca. Anna Matilda died with whooping cough November 4, 1883. Three more children were born to them:
Angus Gustavus, May 8, 1884

Carl Levi, August 13, 1886

Mary Shanet, June 7, 1890.
Gus provided for his family by farming and selling vegetables, eggs, poultry and beef to the nearby mining town of Bullionville. At one time he also had the contract to carry mail to Pioche. With fast horse and buggy, it only took two hours one way.
It seems he was a man of many trades and talents, for in later years, as he became more and more crippled with rheumatism, he was the town cobbler and shoemaker.
He will forever be remembered by his grandchildren as a kindly man who always had time to dance them on his knee to the tune of an old Swedish folk song.
It wasn't until his son, Levi, was baptized, at nine years of age, that he too became a member of The Church of Jesus Christ of Latter-day Saints, June 12, 1895. Two years later, Sept 14,1897, they traveled by team and wagon to the St. George Temple to be sealed as a family.
At the age of 81 he suffered a stroke and passed away March 5, 1925, and is buried at Panaca, Nevada.
Notes from his granddaughter, Mina Jean Blad Free :
"Grandpa was 5'10" tall, weighed 200 pounds, chest size 44. Eyes were blue, hair dark. "