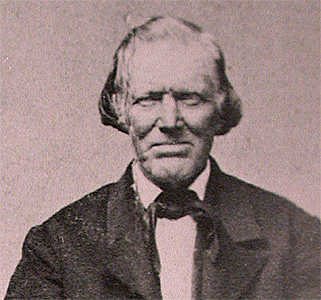 NEW! Go to the Annie Hicks Free Online Reunion for more information and discussion.
Absalom Pennington Free
by Mae Biesinger Rose
Mary Pennington and Andrew Free lived in Burk Co., North Carolina. Land had just opened up for expansion in St. Clair Co., Illinois in 1814 when they moved their little family to Belleville, near East St. Louis, Illinois, in St. Clair County. Absalom was their eldest child and would have been sixteen years old at the time. Their were eight children in the family when they moved to Illinois. Their names were: Absalom Pennington, born 1789; Betsey, born 1799; Allen, no date; Joshua Perkins, born 1803; Mildred, born 1805; John Page, born 1808; Joseph, born 1811; and William Hart, born 1812. Three children were born after arriving in Illinois--namely, LeRoy, born 1817; Isaac, born 1820; and Marjorie, born 1822.
Here in this new area, the family worked hard to clear the land of the dense growth and large nut trees native to this place. It is a tribute to their industry and determination for they became very prosperous farmers. Four years after arriving in Belleville, Absalom eloped with Martha Belcher, a pretty little girl of sixteen years. The family has enjoyed telling of this fairy tale like romance through the years. Absalom put a ladder up to her second story window from which she descended into his arms. Their happiness was to be of short duration however, for she died three years later leaving him with two baby boys, Andrew and John Belcher. This marriage took place in St. Clair Co., Illinois in 1818.
On August 3, 1823, Absalom took Betsey Strait to be his bride. She was the daughter of Hannah Thomson and Israel Strait, who was a teacher and had a school for boys. The Free, Belcher and Strait families were neighbors and had been close friends for years. Absalom and Betsey were the parents of twelve children.
The Free family was devoutly religious and worshipped God. It is easy to understand the enthusiasm they felt when word reached them that an angel was coming to visit their community. This term 'angel' was commonly used when referring to the Mormon Elder. This was in the summer of 1830, soon after the organization of The Church of Jesus Christ of Latter-day Saints. The Free home was the largest in the neighborhood, so it was natural that meeting preparations should be made in their home. They listened, asked questions and visited, however they did not accept the gospel at this time. They became very fond of him and invited him to return if ever he was in their neighborhood again.
It was not long until this Elder did return, but he came with the chills and fever and needed care. Betsey tenderly nursed him back to health. During the two weeks he was convalescing he talked to her about the gospel and by the time he was well enough to leave, she was ready for baptism, but not her husband nor any other member of the family. However, the seeds were sown and when Elders Simon Carter and John Brown called on them in 1834 they were ready to listen. Andrew and Mary P. Free, Absalom and Betsey, and a large number of other relatives were baptized and became members of the Church at this time.
As soon as they became members of the Church they were eager to join others of their faith in Far West, Caldwell County, Missouri. They sold their property and moved to Far West where Absalom purchased land and built another lovely home. They were considered well-to-do. Persecution was great during this time in Church history. The Saints had been driven out of Jackson Co. in Missouri and the mobs were ravaging Davis Co. but there had been peace against the city of Far West. This was the beginning of trouble for the Free family. When Absalom joined the forces for defense of the city he left a sick son at home with the women folk who, with five other families, had to defend their homes and their lives.
Once when the girls were on guard on a ridge, they saw part of a mob harrassing an aged prisoner. They were shocked to find that it was their grandfather, Andrew Free, who the mob threatened to shoot unless he would renounce, as they said, "Old Joe and his d--md religion". The faithful old Mormon bared his chest and told them to shoot, but he would never deny his religion which he knew to be true and of God. The leader declared with an oath that any man who could be that brave and true to his religion deserved to live. The mob released him and he returned to his home.
After the saints were driven out of Missouri in 1838 and 1839, the Free family returned to St. Clair County, Illinois, and remained there until they went to Nauvoo, Illinois, in 1845. During this time they rented farms, probably near their old home. The period between 1834 when they joined the Church and 1845 when they went to Nauvoo, was a difficult one for this family. In addition to the heartache and sufferings and financial losses brought about through the severe persecutions in Far West, Betsey gave birth to six children, and death claimed four beautiful children--a son, 12 years old, a daughter, 14 years old, and twin girls, 1 year old. These experiences were very sad for them for they had great love in their family. The death of the twins possibly had a greater impact in the lives of the older children for they watched these little babies struggle for a year and finally die as the result of not being able to get the proper nourishment for them.
For a couple of years while in Nauvoo, things were a little better again for them. Absalom built another home (we have always understood it was near that of Brigham Young's) and they again began to prosper. Once again persecution drove them from it and from Nauvoo. The mob forced them to flee in 1846. Before leaving Nauvoo, Absalom went to go to the Nauvoo Temple and receive his endowments on February 6, 1846.
Andrew Free was in Nauvoo at the time they were driven out by the mob. He was regarded as too old (72) to make the trip across the plains even though he had a great desire to do so. The best information I have is that his wife, Mary Pennington Free died in 1839 possibly at the time they were driven from Far West. Andrew Free died in Nauvoo in 1850.
They crossed the Mississippi river on the ice in the cold winter of 1846 with hundreds of other members of the Church. They finally arrived at Winter Quarters where the homeless refugees made preparations to journey to the Rocky Mountains.
In Volume 9 of Heart Throbs, Absalom P. Free, age 50, his wife Betsey Strait Free, age 48, and their children are listed as being part of Brigham's First division of 1220 souls who left Winter Quarters, Nebraska, May 26, 1848 on their way across the plains. This company was well organized for safety and efficiency. It was divided into smaller companies. The Free family traveled in the 7th Company and Absalom was captain of a group of ten wagons.
There are several interesting stories that have been told in the family about experiences and/or events that took place while they were enroute to the Rocky Mountains. One of them: One day as the wagon was being laboriously drawn over the bumpy land, an extra sudden jar sent one of the little girls tumbling from the wagon seat where she was riding. Seemingly the wagon wheels had passed right over her little head. To the amazement of the horrified family, the child jumped up unhurt. The child's head had apparently fallen directly into a hole in the ground allowing the wheels to pass safely over without hurting the child.
Another story was of a runaway team. As the wagon train neared the Platte River, the animals who had not had a drink in a long, long time went crazy with the smell of water in the air and ran wildly and without control toward the water. Absalom, on horseback some distance away, sensed the danger to his son who was desperately trying to hold them back, and to his little daughter who was riding with him. He raced in front of the animals whipping them in the faces with his hat to startle and stop them. And not a minut too soon - for in a short minute they would have been in the river and all would have been lost. Absalom was given the steam and power to perform this feat by the Lord and he thanked God all the days of his life.
The majority of the Brigham Young Company arrived in the Valley of the Great Salt Lake September 21, 1848. Each family received land when they arrived here on which they were expected to provide a home and a living for themselves. The Free family was located in and on the east side of what is now Liberty Park. They worked hard to clear the land, build a home and improve the property for farming. Some years later, in planning for the welfare of the Saints in this fast growing town, Brigham Young decided the best location for a large park would include the Free farm. This property was traded for several lots nearer the center of Salt Lake to the satisfaction of all.
Absalom was a farmer and stockraiser throughout his lifetime. He was active in the church and served as a Patriarch for many years. He loved his family and was proud of them. He was the father of twenty-one children.
March 5, 1857, Absalom was sealed to his third wife, Annie Hicks in the Endowment House. Annie, born January 8, 1837, in Barking, Essex, England, was a convert to the church of only two years, and had arrived in the Salt Lake Valley with the belated Edward Martin handcart company the last day of November 1856. She was only 20 years of age when she married Absalom who was 59 years of age.
To this marriage was born seven children: Elanor, Louisa, Absalom, Frances, Joseph, Irene and WENLOCK.
Absalom's 4th and 5th wives; Sarah Jerrold Hyder and Betsy Jerrold Whitehead were widowed sisters with families. He respected and cared for them and their families but had no children by them. He died in Salt Lake City on July 22, 1882, at the age of 84 years.
Letter from A. P. Free to his family.
Contributed by Helen LaRae Free Kerr. It was marked Exhibit B. Mr. Andrew Free, Mud Creek, P. O., St. Clair Co., Ill. And was in the 78 page probate proceedings of Absalom P. Free. Punctuation has been added by the editor, although original spelling has been used. Frayed areas or illegible writing is indicated by ***.
Oct. The 30th 1853 G. S. L. City
Dear Son and sons and Brothers and sisters and family. Connections, I once more take my pen in hand to let you know that we are all alive and in Reasonable health at present through the mercies and Blessings of our Heavenly Father, and I hope these few lines will find you all in joying the same Blessing. I have nothing very strange to write to you only that we have had some Deficulties or troubles with the Indians. But I hope that will not last long. I Received your letter Dated August the 1st which caused us to rejoice to here from our friends. You wrote that Brother Joseph was dead, which caused many thoughts to pass through my mind in Respect of my kindred, both of the living and the Dead; and as we lost the society of our friends in this life and feel to morn because they are gone, I thought on the other hand that is on the dead of our kinfolks that they would be made to Rejoice in the Society of their friends in the spiritual world. As much as we morned there loss here and I thought all was Right for you know that your Aunt Loucy and your Grandfather and Grandmother and the Rest of our Dead would Rejoice in seeing your unkle Joseph in the spiritual world as much as we can norm his loss here. And I feel to say you Do not know how, I say come here and you can be taught the way of life and Salvation as plain as word can be. I Desire your welfare in time and all eternity. And I invite you all to come here and be Baptize for Remission of your Sins, that all of your past sins may Remitted and have hands laid on you, by them that have authority, for the Reception of the holy Gost, which is the Spirrit of the lord. And it will teach you all things necessary for your Salvation and Exaltation in the Eternial worlds. You may think to Come here is a long ways to go for Salvation but I think you had better Do it than to Miss of it.
You may want to know how we are doing. We are pore as to Money and property but we have plenty to live on. The girls that is married is Doing well and has plenty of the Comforts of life and has as good Men as any in the world. And we as a family are a Blest family for wich I feel very thank full to my father in heaven for. We have been Blest with health as a family since we have lived in the Valley, and also with the lit of truth Revield in these last Days for the Salvation of the Children of Men and Exaltation in the Eternial world. I want you all of you my Relatives to write to me and let me know how you are Doing for I Desire to hear from you all. But, I would like Much better to see you all and talk face to face in this life. I have Many things to tell you of that I can not write on this paper. I fell like I wanted to tell you many things that would be for your good in Time and all Eternity. You may have your Doubts about this Church, whether it is the Church of Christ or not.
I will tell you of a truth that it is and all the honest is invited in to it for there Salvation and Exaltation in the Eternial worlds. You rote a few lines in your letter to your Mother which caused her to Rejoice to see what good feelings you had for her as a Mother. And she says she has as good feelings for you as you Can have for her, and She wants to see you and Sally and your little Boy as much as you Can want to see her. She wants you to come and see her self in her old age. She says she Does better than Ever she Did in her life, be cause She is in the society of the saints, where She can go to meeting Every sunday, where there is thousands of Saint, and hear the word of the lord through his servants, that is a pointed to teach the people his will boncerning them. She says she wants you and Belcher to write to her as often as you can and let her know how you are Doing.
You Rote you would like to see a line from Preston. He says he will write to you. He wants to see his Brothers that is fare from him and has not seen you since he was a little Boy, he is very near groan and Expect he is about 2 inches higher than I am Telitha is the least of all the girls that is groan and she is large a plenty. Finley and Elvira and olov(er) is all well groan to there age not having any sickness to hinder their groing. (Telitha sends her love and well wishes to you and your families and all in quiring friends and the Rest of the children sens there love to you and all there friends and when we say all of our friends we mean all not one excepted). I want you to tell Brother Josephs Children that Allen is in California and is working for seventy five Dollars per Month and he wrote that he would come here next summer if not be fore. He wants his folks all to come to the Valley. He has got a lot in the City and left word for a house to be built on it for him. Jesse Steel is married and Doing well. Brother Leroy I desire to see you and talk with you and Comfort you if I Could. I am sorry to here of you being blind. I desire your welfare in time and Eternity as Much as I Do any Bodys happiness. I know you have suffered much pain of body and of mind for the Eye is a tender place and the loss of sight is grate loss. And that you know I want you to *** or have ***ne body to write tome your mind and feelings and your Desires. I will write to and it my be that I may write to you words that will be of Great worth to you and Comfort you Mind. I do not believe that you are the worst of all sinners. I hope if you have sins you will Repent and come in to the Covenant, where the blood of Christ is a plide for the sins of the people and your sins shall be for given, if you will Do it with full purpose of heart, and you may have a Right to clame all the Blessings of the Gospel. One of them is to Restore the blind to there sight. Write to me as soon as you can and I will write to you.
I would like to write to all my Brothers and Sisters in Dividually but I cannot at this time. I want you all to write to me as soon as you can and let us know how your are Doing for Time and Eternity.
We all Desire to be Remembered to all of our friends and Relatives.
A. P. Free and family to his friends.