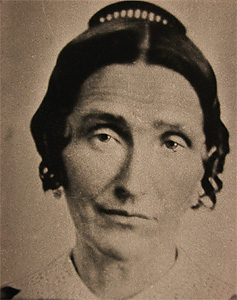 Abigail Jane Daley
written by Stella Fisher Brossard, granddaughter
She came in '48, and how brave and courageous she was. With abiding faith in her Heavenly Father and her love for the Gospel of Jesus Christ, she was able to bring her family from Winter Quarters to Salt Lake City, Utah.
I write of my grandmother, Abigail Jane Daley Andrus, who left Winter Quarters, the spring of 1848, with five children, endured the hardships of that long trek across the plains, arriving September 24, 1848 in the Heber C. Kimball Company.
Her husband, Milo Andrus, was sent from Winter Quarters to England, on a mission, in the spring of 1848. Shortly before he left Winter Quarters, according to his diary, he was sealed to Sara Ann Miles, who accompanied him to England.
To the union of Abigail Jane Daley and Milo Andrus were born six children: Mary Jane Andrus, born November 1833, at Florence, Huron County, Ohio; James Andrus, born June 14, 1835, at Florence, Huron County, Ohio; Sara Ann Andrus, born May 31, 1837, at Caldwell, Missouri, died 1838 at Caldwell, Missouri; John Daley Andrus, born April 23, 1837, at Woodside, Adams County, Illinois; Millennium Andrus (my mother) born August 31, 1845, at Nauvoo, Hancock County, Illinois; Amanda Ann Andrus, born November 19, 1847, at Council Bluffs, Pottawattamie County, Iowa.
With these five children she arrived safely in Salt Lake City, Utah. The oldest boy, James, 13, had to take the place of a man, and with the help of his brother, John, 7 did the work of a man during that long and strenuous trip across the plains. They walked every step of the way, and barefoot too, along with their sister, Mary Jane, and their mother. They had to to many times to pick the burrs from their feet. At one time, they came to a place where the Indians had been in battle. They picked out some of the hides to cover their feet, as they were sore and bleeding.
My mother, Millenium, was only three, and rode in the wagon with her baby sister, Amanda. Just after my mother returned from Salt Lake City to her home in Oxford, Idaho, after she had attended the Golden Jubilee July 24, 1893, she said to me, "As the parade passed by, my sister, Mary Jane, broke into tears and said, "All it needs to make it complete is James, John, and me to be walking barefoot beside the wagon."
There was no complaining from my blue eyed, Dutch grandmother, who walked each day through wind and rain, or days of blistering sun, on the prairie land, or fording deep streams. She was thankful each night that her Heavenly Father, with his protecting care, had given her strength to do her daily tasks, and to arise next morning with courage to continue on. What joy was theirs when they reached the journey's end that day in September.
That winter the big wagon box was their home. The boy's bed, being under the wagon, where there was some protection from frost and rain. Grandfather writes in his diary of their wagon, "The winter of 1846 my house, in the basement, was made into a wagon shop and in the spring I started on a journey to the West.'
That winter (1848-49) in Salt Lake City fuel was plentiful and easy to obtain, but food was scarce. They experienced a hard winter. A man by the name of Session kept them many times from starving. The Saints had put in their crops, but the crickets had taken them. Not half will ever be told of what they endured.
My mother told me, more than once, and each time tears would fill her eyes and a lump come in her throat, that during the scarcity of food in Salt Lake City before help came, that her mother, of whom I write, made some bread from her last bit of meal; and when it was baked and ready to eat there was not enough for all, so she divided it among her children and while they were eating it she went behind the house so that she could not see them eating, for she was as hungry herself. How a mother loves her children and how she sometimes has to sacrifice.
Abigail's children were hard workers and sacrificed for one another. The oldest boy, James now 13, was of tough fiber and brave spirit. In the canyons he worked long and hard to get fuel against the winter. Grown men, admiring the boy's pluck, would aid him, and he would proudly drive home with his load of wood. The second son, John, of a quieter, less ambitious nature, early learned the use of fire arms and became a first class shot. With his old muzzle loader he killed great numbers of wild ducks, as these were plentiful and sell them for fifty cents. Mary Jane did washing every day of the week and ironed by moonlight to obtain the few groceries they could buy. The younger girls herded the cows and pulled "pig-weed" and "mustard" and other edible weed; and, when evening came and cows were brought in, they had aprons full of weeds, which were cooked and became a mess of greens.
In 1850, my grandfather returned from England. Times were better then, crops had been harvested, wild fruit picked and dried, and a log cabin built. The food was simple, consisting of cereal grains; whole corn, fresh in season, dried, or parched for winter; wheat cracked to coarse bits, or sometimes parched; milk and butter; some eggs; and fowl; wild meat at times, venison and ducks. Sugar was had in the form of sorghum or molasses, as a form of sugar cane would be grown in Utah, and a few crude sorghum mills existed. Potatoes, carrots and cabbages were coming into production. So, all in all, after the Latter-day Saints had passed their first few years of bitter struggle, their food supply was ample and well balanced. Fruit was scarce until orchards could grow to maturity. The canyons produced a small amount of wild berries.
Copying from grandfather's diary again, after giving an account of his work in the Mission Field, his trip across the plains where he was Captain of fifty-five wagons in 1850, he writes, "After one week's rest I went to work in the 19th ward and built me a house; and about the first of January, 1851, my wife, Jane and I parted."
In 1852, Abigail Jane married Elisha W. Vannette . To this union a little girl was born, who died in infancy; and later another daughter, Elizabeth was born, who became the wife of John Bullen.
My grandmother later moved to Richmond, Utah, and spent the rest of her life there. I remember my dear old grandmother whom I dearly loved and who died when I fourteen years of age, 27 October 1894.
I often visited her when a child, as Oxford, Idaho, was only thirty miles from Richmond, Utah. Much much father than it it today though, since the mode of travel is so different.
Her hair was always done with ringlets on each side of her face, and a bob in the back of her head. How well I liked the cottage cheese. She called it Dutch cheese; and those pottawattamie plum preserves; and the bedstead, so high from the floor, with the white curtains all around it. She kept her little home immaculate Her sister, Nancy Mariah, who never married, always made her home with grandmother until grandmother died.
Grandmother was born in Marcellus, Onandago County, New York, January 26, 1815. Her father, John Daley Jr., and his wife Elizabeth Ennis Daley, with their children, moved to Ohio in her early girlhood. Her father was baptized as a member of the Church of Jesus Christ of Latter-day Saints, in 1832. A month after her 18th birthday, Abigail Jane Daley married Milo Andrus, on February 21, 1833, in Florence, Huron County, Ohio. Milo Andrus was the son of Ruluf Andrus and Azubah Smith.
Abigail Jane descended from a sturdy race of people, the French Huguenots, and that illustrious family, "The DeWitts," who saved Holland for Holland. Abigail's grandmother was Hannah DeWitt, who was a descendant of Clars DeWitt of Holland, who came with the West Indies Company to what is now New York (1612). The DeWitts at one time were virtually rulers of Holland. Being among the earliest settlers of New York, they have helped make the history of this great nation. Her pedigree on this line is unbroken to the year 1295. The record is found in the Royal Library, at "The Hague" Holland. How proudly my mother used to say, "DeWitt Clinton, thrice Governor of New York was my mother's cousin.
Abigail Jane's grandfather, James Ennis, married Hannah DeWitt. The mother of James Ennis was Eleanor Hornbeck, whose mother was Eleanor Cuddeback, whose father was Jacob Cuddeback or Cuddeback. The emigrant ancestor, Jacob Cuddeback or Cuddebec, as it should be spelled, reached America when a very young man. He came with Peter Gumaer, both settling in the wilderness of New York. In 1690, we find them among the first settlers of Deerpark, Orange County, New York. It was difficult for these young men, who had come from families of wealth, to accustom themselves to manual labor. Jacob Cuddeback and his sons were stalwart strong men; naturally, the men at that time were all inventors and mechanics. The men of the family served through all the wars and many times their homes were laid waste by the Indians. The strong stone houses, being the largest, built by Cuddeback and DeWitt families, were used as forts during Indian Wars. Jacob Cuddeback lived to be 100 years old. (Taken from "History of Deer Park, by Peter Gumaer or Cumaer. We also find more of Jacob Cuddebac's life from page 184 on.)
Grandmother and grandfather Andrus were proud of their sons, who knew no fear when fighting Indians. James and John Andrus figured in the early history of Utah, especially when trouble with the Indians arose. Grandmother's children were very devoted to their mother and provided well for her and her sister in their declining years, and were all at her bedside when she died; and had tenderly cared for her in her last illness.
She was always friendly with her first husband, Milo Andrus, who in his later years took great comfort with the children of his first wife and their families. Abigail was again sealed to Milo Andrus in the Logan Temple on 17 March 1886.
She and her husband, Milo Andrus, were born just a year apart; that is, one born in 1814 and grandmother in 1815. They were baptized a year apart: grandfather 1832 and grandmother 1833; and Grandfather Andrus died in 1893 and Grandmother died in Richmond, Utah October 27, 1894, and is buried in the Richmond cemetery.