What a difference 50 years of goodness makes...
Fri, 08/19/2005 - 7:10pm — joefree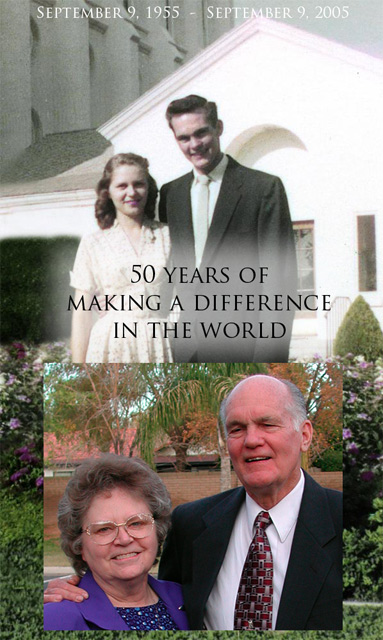 Over the last 50 years many lives and situations have been blessed because of the lives of Joe & Isabel Free. They will tell you it is the Lord that has blessed them, and that is true. However, they have lived their lives for others and that results in great blessings because they are doing His work. How appropriate that on this 50th anniversary they find themselves on the other side of the world and equator in South Africa on their 3rd mission.
Help us show them how much of a difference the Lord has helped them make in so many lives. Please click on "add new comment" once or twice or as many times as you want to record memories of a difference you are aware of. (if you don't see "add new comment" please choose "register")
We also need your help to spread the news far and wide so that on the 9th of September it will take all day for them to try to read the impact they have had.
Come back often and read of what others have shared, it might prompt some more memories to share.
Please include who you are and how you came to know them as you share your memories.
Thanks!
ps-Some have asked if they could give something. It is not necessary, but if you feel that you would like to give a gift, beyond your memories, we have set up a fund where you can donate. This fund will be used by Joe & Isabel to "make a difference" in the lives of some wonderful friends in South Africa. Just click on the "donate" button to the right.